Samsung introduces smart cameras
Samsung Electronics Co. Ltd launched an upgraded smart camera, one of the first devices to run on new technology.
"As new additions to the WB series of long-zoom models, DV series of Dual View cameras and ST series of Style Feature cameras, the new devices combine optical performance and style with the enhanced connectivity of smart camera," a spokesman for the company said.
Samsung has evolved its innovative Wi-Fi technology to enhance its smart camera, originally unveiled at CES 2012, by creating smart camera 2.0.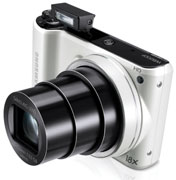 "New functionalities and upgrades allow users to shoot and share their photography instantly, revolutionising the connective camera experience and allowing consumers to be in control across the breadth of the smart camera portfolio. The 'One Click, Simplify' concept enables connected devices to connect so images can be shared in one motion through the interface," he said.
Designed with smartphone users in mind, this interface combines touch-type and big screen functionality, creating faster editing and uploading to other devices and social media sites.
"Simplified connectivity for the camera user is a reality when using any Samsung camera with Wi-Fi connectivity. The photographer can now experience a connected world, through either upgraded capabilities or when using any of the wireless advantages of the smart camera's Wi-Fi connectivity," the spokesman said.
AutoShare allows images to be sent simultaneously and saved straight to a smartphone, through a Wi-Fi connection, as soon as the photo is taken on a camera. The function is built for busy lifestyles and will automatically become the default setting once set up, allowing back-up and sharing of treasured memories to be stored in an instant.
Streamlined connection has also been built into the external design of smart camera devices with a standalone Direct Link hot key automatically executing on Wi-Fi functionality at the touch of a button.
Users can assign their most loved wireless function to the key in advance for superior speed when sharing photographic memories with friends and family anywhere in the world through Wi-Fi connectivity.
The Samsung smart camera App. builds on Samsung's commitment to a connected world.
This new feature enables smart phone users to download the application (available on both Android and iOS operating platforms) and connect with the pre-installed smart camera capabilities through a Wi-Fi connection to manipulate, share and back-up images shot across the range of connected Samsung cameras available.