'Spark iT' empowers ICT entrepreneurs
The Ceylon Chamber of Commerce (CCC) awarded the four finalists of the 'Spark iT' ICT Entrepreneurship Development Initiative recently. The winners were Atiral, Ridgecrest Asia - AutosLK, Search Sri Lanka Portal and TopDocOpinions while each of the winning start-ups were awarded Rs. 1 million to fund their projects' development.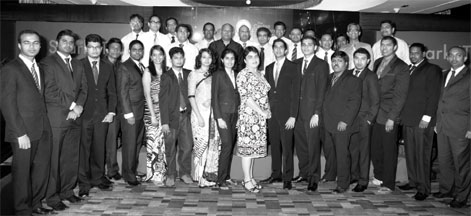 Ten finalists were shortlisted from over 60 applicants, from which four finalists were selected for the 'Spark iT' grant by a panel comprising industry experts and opinion leaders.
"This is a proud and significant moment for Sri Lanka's ICT industry. The 'Spark iT' initiative is just one of many that we have planned to uplift the sector by empowering the country's increasing number of talented ICT entrepreneurs.
The ICT industry has seen rapid growth and at this opportune time we should continue to invest in its growth and development," said Chairman, Ceylon Chamber of Commerce, Susantha Ratnayake.
Chairman, CCC ICT Steering Committee, Dr. Hans Wijayasuriya said, "The response to the 'Spark iT' venture competition from ICT entrepreneurs has been most encouraging, and it is our hope that the program would add value to their business creation aspirations."
"The 'Spark iT' program has been designed to provide winners with start up funding in the form of investment awards from blue chip corporates and to provide a platform for all shortlisted contenders to engage with the members of the Ceylon Chamber and at the upcoming Venture Engine competition to take their innovations to market," he said. "Spark iT could not have been made a reality if not for the support of our partners and sponsors and I would like to take this opportunity to thank them on behalf of the Ceylon Chamber of Commerce," Wijayasuriya said.
The initiative by Ceylon Chamber of Commerce is supported by 'Event Partner' Venture Engine, 'Strategic Partner' SLASSCOM, 'National Partner' ICTA, 'Platinum Sponsor' Etisalat and awards sponsors Brandix, Dialog, John Keells, MAS Holdings, with sponsors Microsoft, 99x Technology, Orion City, hSenid, IFS, and Informatics.
Founding partner, Blue Ocean Ventures, and co-founder, Venture Engine, Prajeeth Balasubramaniam said, "Conceptualised by Blue Ocean Ventures and The Indian Angel Network, Venture Engine has successfully pioneered the creation of a start up ecosystem that provides Sri Lankan entrepreneurs with funding and mentoring to build their businesses. We are committed to extending our success and know-how by partnering with other associations to create wider opportunities for entrepreneurs."
"As the Ceylon Chamber of Commerce celebrates its 174th anniversary we are happy to partner with them on the 'Spark iT' entrepreneurship program for the ICT sector," he said.
"Given the quality of business ideas showcased at 'SparkiT', the Venture Engine panel of judges decided to forward the top ten plans through Venture Engine 2013, in May," Balasubramaniam said.
"Access to participate in VE will help fast track these businesses as they get direct exposure to potential investors from India and Sri Lanka, who will provide high quality mentoring," he said.
'Spark iT' attracted a variety of applications across diverse industries. The top ten finalist's shared their unique and innovative start-up ideas, contrasting from fashion and gaming to automobile and travel. One of the innovative start-ups selected, Atiral, creates cloud based social networking and collaborative platform for educational institutes.
While another one of the four grand finalists, Ridgecrest Asia - AutosLK's creates web solutions for maintenance of vehicles.
"SLASSCOM has always believed that knowledge based industries lending themselves to entrepreneurship as Intellectual capital is the biggest input. SLASSCOM is delighted to partner with the Ceylon Chamber of Commerce in this laudable initiative which will encourage Sri Lanka's youth to become entrepreneurs and pave the way for job creators rather than job seekers," said Chairman, SLASSCOM, Sujiva Dewaraja.
The initiative extends ICT entrepreneurs in Sri Lanka an opportunity to present their business plans, aided by informative workshops with some of the region's top entrepreneurs, industry experts and business leaders.
All proposals were evaluated by a panel of judges comprising 12 renowned ICT professionals, venture capitalists' and private equity investors.
The entrepreneurs were given an opportunity to present their business module, opening them up to multiple capital and partner prospects.
Program Head, ICT Agency of Sri Lanka (ICTA), Fayaz Hudah said "Creativity is 'boundless' and has the potential to transform the world. And programs such as 'Spark iT' help further enable the ecosystem. ICTA is happy to be a partner through its 'spiralation' initiative which looks at developing new technology entrepreneurs in the country. Great synergies are being exploited, between the commercial sector and those with great ideas looking to 'disrupt' pre-existing business models through CCC's members and the corporates."
Director and CEO, Etisalat Lanka, Dumindra Ratnayaka said, "We are pleased to partner CCC in this project as Platinum Sponsor. This initiative that will help to recognise, and fund ICT entrepreneurs. We believe in empowering our people's dreams in becoming reality through innovation and a customer centric approach."
"Therefore, the value of the Spark-IT initiative is synonymous to our brand values in energising imminent innovators of the country. Powering 'Spark iT' is similar to our commitment in the development and growth of the ICT community, at a time when we are reaching its peak. Through initiatives such as 'Spark iT', great ideas now have the ideal platform to take flight," he said.
The Ceylon Chamber of Commerce together with all 'Spark iT' partners, will continue this initiative annually to empower young ICT entrepreneurs in the country.