LG targets 40 m smartphone sales in 2013
"LG Electronics aims at a global target of 40 million in smartphones sales this year. Sales of the newest models of the LG Optimus series have increased by 56% during the last quarter of 2012, resulting in the sale of 8.6 million units. LG hopes to maintain this upward trajectory in sales in 2013," a spokesman for the company said.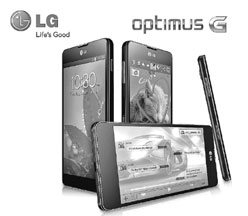 Perhaps the most impressive addition to the LG Optimus series is the Optimus G, which was launched in Sri Lanka on February 17. The Optimus G features a full high definition screen with two million pixels.
The LG Optimus G is one of the world's first quad-core smartphones. It combines LG's LCD display and energy technologies with Qualcomm's Snapdragon S4 Pro processor to create a fast mobile experience," LG Optimus G users can multi-task between apps and tasks and go beyond the boundaries of traditional on-the-go smartphone capabilities.
The design and the imaginative user experience is combined with state-of-the-art display technologies from LG Innotek and LG Display such as True HD IPS Plus and Zerogap Touch. It has a unibody unit that eliminates the gap between the glass and the LCD panel. The new battery from LG Chem has long-life designed for multitasking.
An high-resolution, compact camera is employed in the Optimus G to offer sharp photos without pixilation. Combined with Long Term Evolution (LTE) technology, the processor allows users to view video while running other apps at the same time.
The QSlide function shows two different screens simultaneously on the same display so that users can send emails while playing a graphic-intense video at the same time.
Quick Memo allows users to take notes on captured documents or photos with their fingers and instantly share with colleagues as an attachment or URL and Live Zooming enables magnification up to five times.
It also has a 13MP rear-facing camera with Time Catch Shot, Cheese Shutter and Smart Shutter, Low Light Shot Noise Reduction, Android 4.0 (Ice Cream Sandwich) Operating System, 32 GB memory or 16 GB on-board memory and micro SD slot pre-loaded with 16GB SD Card that can accommodate up to 64 GB expandable memory.
It has Bluetooth version 4.0 and a 1.3 MP front facing camera, 2G/3G/4G networks capability. Screen Zooming allows zooming in and out of lists in music player, email, text messages and photo gallery for increased visibility.
This smartphone comes encased in a light weight, slim body and comes with patented Crystal Reflection to give the back cover the ability to display different patterns depending on the angle and lighting.
Users can personalise their Optimus G display by using the Icon Personaliser which allows for customisation of the size and images of the most used applications on the phone.