Singaporean florists train Lassana Flora staff
Lassana Flora recently signed an agreement with one of Singapore's largest florists, FarEast Flora, to train its florists.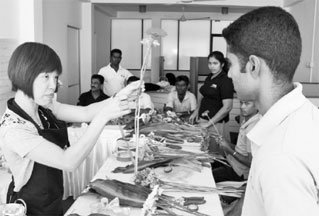 The first residential training program was conducted recently at the Lassana Flora staff training centre in Nawala where florists from Lassana Flora exchanged ideas with visiting Singaporean experts and were trained in the finer points of flower design and the intricacies of floral art.
Chairman, Lassana Flora, Dr. Lasantha Malavige said, "We are proud and honoured to partner with one of Singapore's top florists. As a company we always strive to excite and inspire our clients with the most creative floral solutions."
"Our decision to bring down experts from FarEast Flora to train our florists has given us a tangible and leading edge in Sri Lanka's floral industry as we now strive to greater heights."
"Lassana Flora has always believed in continuous training to uplift the knowledge and expertise of its personnel so that the company exceeds customer expectations to be in line with international trends," he said.
General Manager, FarEast Flora Ms. See Pei San said, "We consider it an honour to work with Lassana Flora and hence our acceptance of this invitation to visit Sri Lanka. Dr. Lasantha Malavige has a great vision for his company and is a person totally dedicated to quality."