External borrowings no, risk to economy - Report
In the Effective Debt Management report of the UN-ESCAP, Sri Lanka has been placed under the "less indebted" category. The report said that Sri Lanka is in the range of less indebted in five out of six external debt indicators according to the parameters defined in the manual that assesses the external debt vulnerability of a country.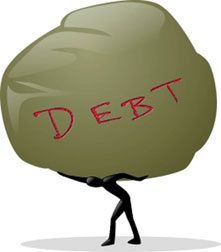 According to this report Sri Lanka is placed under moderately indebted "the Disbursed external debt outstanding to Gross national income" category and all other categories; disbursed external debt outstanding to exports of goods and non factor service, total external debts service payments to exports of goods and non factor service, external interest payments to exports of goods and non factor service, net present value of external debt to gross national income and net present value of external debt to exports of goods and non factor service Sri Lanka is among less indebted countries.
The Central Bank of Sri Lanka (CBSL) welcomed this report and created lead stories in news because it had given independent and credible answers to continuous allegations against the government by opposition political parties and economic analysts. Their argument is that Sri Lanka is in a debt trap and excessive borrowing has created a huge risk in the economy.
The government on various occasions has justified borrowings and said that the level of borrowings is not at risk.
The Central Bank Governor and the Treasury Secretary have adequately responded to these criticisms. During the post budget discussions, Dr. Jayasundera said that debt is similar to blood sugar and cholesterol and excess as well as inadequacy is a problem.
President Mahinda Rajapaksa at the opening of the Mattala international airport said that the government is borrowing for development and not for consumption. However, the critics question the economic viability of these projects. According to some analysts if a project funded by debt can create a sufficient revenue flow to cover the debt service cost more such projects may not become burdens.
However, some projects may take time to generate sufficient revenue. Despite frequent break-downs projects such as Norochcholai coal power plant can generate profits.
Revenue from projects such as Southern express way is increasing gradually. Borrowing money is not a hobby for an individual, household, business venture or a government. Under the present global economic order, the role of the financial economy has turned out to be a highly debatable question with a range of answers.
In the preface of their book The Fisherman and Rhinoceros: How international finance shapes everyday life, Eric Briys and Francis de Varenne raise several questions. "Is the globalisation of finance steering us towards heaven or hell? Should we be afraid of the new economic system that we live in? Should we fear the financial markets and their infamous derivatives? Should we be dreading the prospect of a domino effect that will drag the world economy into a chain of one-collapse-after-another?
In short, have we, like Frankenstein, given birth to creatures which can no longer be controlled and which are a permanent threat to our future?" The answers to all these questions may be yes or no depending on the vision or policies of individuals or governments. Therefore, borrowing decisions of a government cannot be criticised in isolation.
There are reasons for increasing government borrowing, especially from international commercial sources. There is a huge diversion of borrowing sources in the recent past. In the past Sri Lanka with poor or developing status had access to concessional credit from international lending agencies and friendly countries. These credit had conditions but the rates were extremely low and there was adequate time and space to repay. We still service such loans, even what we obtained to implement Mahaweli projects.
However, with the improvement of the economy, achieving middle income status today we do not have the access to such concessional credit.
Today we do not attend donors meetings annually that teach us on what we should do and not do. On the other hand with the global financial criss and economic and financial difficulties faced by developed countries such concessional loans are in short supply. Inevitably, we have to go for commercial loans and the rates are depend on the market.
With the liberalisation of the economy the debt structure too has changed. Earlier only the borrowings of the government were in external debt because since there was restriction on the capital account and strict exchange control was in place the private sector borrowing was not significant.
However, today the picture is changing and with the relaxation of capital account transactions and exchange control there is a capital flow in and out. Private banks, financial institutions and other companies too are allowed to raise capital from international markets and even last week some private banks successfully concluded such transactions valued at millions of dollars.
Therefore, the risk too is high and no doubt this kind of independent analysis of debt risk helps us to manage our debt portfolio.
Therefore it is important to take full analysis of this report and not the positive remarks alone. The report says, "liberalisation of capital accounts brought about a new approach to debt management in many emerging markets.
As a result, exchange control of private sector debt was replaced initially by a system of registration that was used mainly for monitoring purposes. Later, this was dispensed with in many emerging markets in the belief that borrowing abroad by private sector firms was the responsibility of the firms themselves.
The institutional capacity needed to monitor the volume and maturity structure of external obligations of a growing private sector was absent in debtor countries and had to be built up. With the removal of capital controls, the public and private sectors had a choice of raising financial resources from either international capital markets or the domestic market, provided the latter was adequately developed.
The main considerations in the choices made were the comparative risks and costs of each course of action and the state of development of the domestic debt market."
The report highlighted the risk pointing out the crisis in Mexico in 1995, Asia (Thailand, Indonesia, the Republic of Korea and to a lesser extent the Philippines and Malaysia) in 1997, the Russian Federation and Brazil in 1998, and Turkey and Argentina thereafter.
"These financial crisis drew attention to the importance of macroeconomic and other policies for managing the external debt, including the private non guaranteed debt of a country. Common policy failures that affected Asian countries were the existence of macroeconomic imbalances, managed exchange rates, deficiencies in external and domestic debt management, large current account deficits and weak financial systems whose performance was made worse by overexposure to heated property markets.
The problems also made them vulnerable to varying degrees of capital flight and harmful international capital flows. The problems in Mexico in 1994/1995 were referred to-showed that a financial crisis could spread to other countries with which it had no important links but which were perceived to have similar problems leading to cross-border financial contagion," the report stated.
As the report stated a significant component of the increase in external indebtedness in many developing countries in the 1990s was due to the activities of the private sector and State enterprises.
Although these entities are accountable for their debt, the performance of some sectors could have a significant impact on the implementation of macroeconomic policies, for example heavy borrowings of the banking sector abroad to finance domestic loans that became non-performing.
Although, in previous years Sri Lana was not vulnerable to this kind of risks now the situation has changed and authorities should be more vigilant. According to the CBSL by 2010 the total debt of Sri Lanka was $ 21, 438 mn. At present the debt to GDP ratio stands at around 85 percent. Standard and Poor's Ratings Services confirmed a 'B+' sovereign rating for Sri Lanka recently with a 'stable' outlook but warned of a bloated state sector and institutions that lack transparency and independence.