Hotel Show 2013 - focus on increasing tourist inflow
The 'Hotelling' exhibition - Hotel Show 2013 will be held from July 26-28 at the BMICH.
"Over the years, the bi-annual exhibition has gained popularity among hospitality industry stakeholders and the public as it covers every sphere of the industry. The stalls which have now been allotted will ensure that this year's exhibition would be above par, and would give visitors and stall-holders a valuable experience," a spokesman for the organisers said.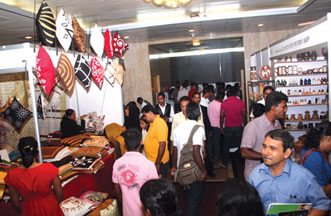 The bi-annual event which will be held for the eighth time and has changed after the organising committee decided to hold it in consecutive years for the first time. The Hotel Show will feature the country's prominent and renowned brands and innovative technologies to an audience including international consumers and hospitality service providers.
In keeping up with the Hotel Show tradition in the previous years, the participants at the event will include segments such as, in-room technology, laundry, air conditioning, software systems, modern security systems, hygiene and catering, architecture, gardening, landscaping, outdoor furniture, swimming pools and waste management.
It will be a 'one-stop-shop' for all products and services of the hospitality industry.
The Chairman of the organising committee for Hotel Show 2013, Trevine Gomez said the exhibition will most certainly mark a turning point in the sphere of hospitality-related exhibitions.
"This will be an event like no other, with the continuous drive and emphasis placed on increasing tourism in the country, Hotel Show 2013 will provide all stakeholders a common platform to engage, discuss, innovate and create unique features and services related to the hospitality industry which our country is well-known the world over," he said.
A street food carnival, ice carving competitions, cocktail competitions, along with industry seminars bringing together world's leading speakers and industry professionals will be held along with Hotel Show 2013.
Hotel Show 2013 is organised by the Ceylon Hotel School Graduates Association (CHSGA) in partnership with Lanka Exhibition and Conference Services.
The exhibition is endorsed by the Sri Lanka Convention Bureau and the Sri Lanka Association of Professional Conference, Exhibition and Event Organisers (SLAPCEO) while Lanka Loha has stepped forward for the third consecutive year to support this exhibition as a Gold Sponsor.