Banks told to raise more capital by Bank of England
The Bank of England has told UK's banks they must raise more capital to absorb potential future losses. The move is its first big initiative since it was created by Chancellor George Osborne to maintain the stability of the banking system.
The BBC's business editor, Robert Peston, says the order was a disappointment to the banks.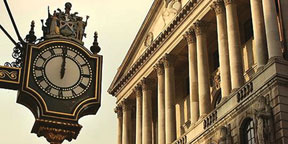 More than four years on from the financial crisis, the banks have been taking steps to strengthen themselves. Despite that, our correspondent says, the UK's banks still do not have enough capital to absorb potential future losses on loans.
He also said the view of the Bank of England is that the banks will not provide the credit needed for economic recovery unless and until they raise additional capital.
The Bank of England spent five months looking at whether the banks should raise more capital.
Under the rules for the FPC, devised by the chancellor, it can and will make a declaration that the banks as a group have to raise a specific amount of new capital. But it cannot and will not say that any particular bank in that group has to raise a particular amount. In the short term this will be seen as bad news by investors, including taxpayers who own more than 80% of Royal Bank of Scotland and almost 40% of Lloyds.
It means the day when these banks can resume dividend payments will be delayed again, meaning that a return to private ownership will also be delayed.
The Bank of England's FPC has overall responsibility for financial regulation in the UK and is part of a new order of regulation designed to keep the banks under closer scrutiny.
It will oversee, and have the power to instruct, two new financial watchdogs: the Prudential Regulation Authority (PRA), which will take over responsibility for supervising the safety and soundness of individual financial firms and the Financial Conduct Authority (FCA), which will be tasked with protecting consumers from sharp practices, and making sure that workers in the financial services sector comply with rules.
BBC