BIZ BRIEFS
CA Lanka launches Degree program

The Institute of Chartered Accountants of Sri Lanka (CA Sri Lanka) launched its first degree program in applied accounting recently.
The new degree is a landmark in the tertiary education sector of Sri Lanka and aspires to bridge the growing gap in university level education in the country due to the limited intake to local universities.
CA Sri Lanka President, Sujeewa Rajapakse said that the BSc in Applied Accounting which has been approved by the University Grants Commission is yet another feat in the institute's continuing endeavour to provide the country's youth with the best qualifications in the accounting field.
---
Zigo launches Nebula 6.9 Tab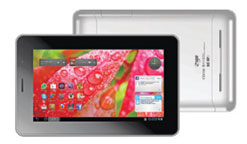 Zigo Mobile, operated by UAE free zone company Serendib Ventures has launched Nebula 6.9 Tab, a mobile personal computer.
The seven-inch multi-touch screen tablet has been designed with Android ICS 4.0 software and a one Ghz Dual Core Processor with a media tech chip set.
The Nebula 6.9 has a 512 MB RAM internal storage and a two GB internal memory, is sleek, and receptive to the touch. The tab is equipped with a dual camera, a three mega pixel camera at the back and a 1.3 mega pixel at front, enabling customers to 'soar through the internet'.
---
HNB selected as 'Best Retail Bank'

Hatton National Bank (HNB) was named 'Best Retail Bank in Sri Lanka' by 'The Asian Banker' for its performance in 2012 at the 12th International Excellence in the Retail Financial Services Awards Program.
The Bank received the award at 'The International Excellence in Retail Financial Services 2013 Awards' ceremony, held in conjunction with the region's retail banking event, Excellence in Retail Financial Services Convention. The ceremony was held in South Korea recently.
---
'Union Health Week' concludes

Union Assurance (UA) conducted a 'Union Health Week' islandwide between March 21-30. During this campaign UA's advisers met the public and discussed ways in which one can plan for health emergencies through affordable health insurance and investments.
"This was a first in UA's history of life insurance and was supported by over 4,000 UA advisers on the field. Union Assurance has identified the need for a comprehensive, affordable health insurance schemes for families to manage their healthcare proactively, and to take advantage of improvements in healthcare facilities while reducing the burden of escalating costs associated with such services," a spokesman for the company said.
---
'No Time to Waste'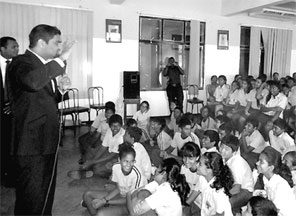 Cinnamon Grand's Green Team in collaboration with Think Green (Pvt) Ltd conducted an e-waste awareness program at the Asian International School for 200 students between 14-16.
Cinnamon Grand's pioneering 'No Time To Waste' environmental campaign in Colombo schools is part of its commitment to share knowledge and environment-friendly practices with the younger generation.
The initiative was launched on World Environment Day 2012 at Ladies' College with 100 students participating in the interactive and educational awareness sessions, conducted by Cinnamon Grand's Green Team members in collaboration with Think Green (Pvt) Ltd.
The program aims at encouraging e-waste recycling among schoolchildren.
---
Seri launches green tea skin care range
The Seri green tea beauty skin care range was launched by Seri Naturals recently at the Heladiv Tea Club at the Dutch Hospital shopping precincts. Maria Al-Kasas, the winner of Seri Miss Sri Lanka Online 2012 and the official face of the range was present.
The range has a face wash, face scrub, toner, moisturising lotion and a shower gel.
Brand Director, Seri Naturals Shayana Ameresekere said, "With over 4,000 years of use in China, it is no surprise that green tea was found to be healthy and nourishing for your skin. I am excited to introduce the Seri green tea beauty skin care range which is packed with natural antioxidants that repair damaged cells and maintain the skin's elasticity, giving you a radiant and more youthful appearance."
RJ
---
ICTA exhibition and seminar in Jaffna

A seminar and exhibition on how ICT makes business grow will be held in Jaffna, an Information and Communication Technology Agency of Sri Lanka (ICTA) official said.
The two-fold event organised by ICTA will be held on April 7 from 9 a.m. to 4 p.m. at the Pillaiyar Inn, Jaffna on to promote the effective use of ICT in business and making the business community aware of the benefits it can bring.
The two-pronged event in Jaffna, like its predecessors , will give the business community in Jaffna an ideal opportunity to explore various products and solutions under one roof. It will enable companies to interact with one another and find solutions that can be tailor-made for their requirements.
"The series of exhibitions and seminars are being held under the Domestic IT Small and Medium Business (SMB) Linkages Program of ICTA's Investment and Private Sector Development Program," an ICTA spokesman said.
The goal of the project is to promote the introduction and utilisation of ICT in businesses and SMEs throughout a network of regional towns (majority being outside Colombo).
There are many IT SMEs in Sri Lanka with technology offerings which could fulfil the needs of businesses including SMEs in the public and private sectors. It is also necessary to create an opportunity for IT-SMEs to showcase their products and service offerings.
The event is partnered by the Ceylon Chamber of Commerce and the Chamber of Commerce and Industries of Yarlpanam.
---
PAB goes for Suwasavi Fixed Deposit
Pan Asia Bank (PAB) has introduced an innovative product Suwasavi Fixed Deposit which provides a free medical insurance cover for the depositor and his or her family.
"The idea behind the introduction of this product is to enable every person who wants to provide healthcare to their loved ones, to do so without eroding the family's future savings. With Suwasavi Fixed Deposits, customers continue to build their future savings by earning an attractive interest while providing the best healthcare to their loved one should the need arise," a spokesman for the bank said.
---
Bernanke defends continuing low interest rates
US Federal Reserve Chief Ben Bernanke has defended the continuing low-interest-rate policies of the US Federal Reserve and Central Banks in Europe, saying they are helping to boost the global economy. The Fed governor's comments come after some analysts have voiced concern that such low rates are cutting the value of currencies of advanced nations. These critics say this may put the developing world at a disadvantage.
US rates have been between 0 percent and 0.25 percent since December 2008. Bernanke said, "Because stronger growth in each (advanced) economy confers beneficial spillovers to trading policies, these policies are not 'beggar-thy-neighbour' but rather 'enrich-thy-neighbour' actions."
BBC