Burst of genuine love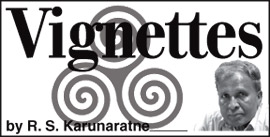 Those who read English poetry avidly sometimes wonder who wrote the best love poem. Opinions differ. However, love poems have produced some wonderfully familiar lines: "How do I love thee?" (Elizabeth Barrett Browning), "Come live with me and be my love" (Christopher Marlowe), "She walks in beauty, like the night" (Lord Byron), "My love is like a red, red rose" (Robert Burns), "Shall I compare thee to a summer's day?" (William Shakespeare) and "Drink to me only with thine eye" (Ben Jonson). The list of love poems can be endless, but how do we find the best love poem?
A nationwide poll held in Britain in 1997 has put the matter at rest. Accordingly, Elizabeth Barrett Browning's Sonnet 43 has been adjudged the best love poem in English. She wrote:
"How do I love thee? Let me count the ways.
I love thee to the depth and breadth and height
My soul can reach, when feeling out of sight
For the ends of being and ideal Grace.
I love thee to the level of everyday's
Most quiet need, by sun and candle light.
I love thee freely, as men strive for Right;
I love thee purely, as they turn from Praise.
I love thee with the passion put to use
In my old griefs, and with my childhood's faith.
I love thee with a love I seemed to lose
With my lost saints, - I love thee with the breadth,
Smiles, tears, of all my life! - and, if God choose,
I shall but love thee better after death."
Being a Victorian poet, Elizabeth Barrett Browning (1806 - 1861) was fond of large uplifting moral abstractions and she used them freely in her poetry. Even the images in her poetry are less concrete than they are in many modern poems. Like most Victorian poets, Elizabeth often expressed her feelings of love more freely and eloquently than later poets.
Heart and soul
Unlike some modern poets who write poems to be included in an anthology, Elizabeth wrote her poems with heart and soul. There was a reason for her to do so. She was a virtual prisoner in her own house, rigidly controlled by her authoritarian father. He did not allow any of his children to go out into the world. However, Elizabeth was not disheartened. At 13 she wrote an epic poem titled The Battle of Marathon. She kept on writing poems and essays regularly.
At 15, Elizabeth fell from horseback, severely damaging her nervous system. After becoming an invalid, she had to face another shock. Doctors asked her father to keep her indoors as she was suspected of having consumption. However, she continued to write poems and essays as usual. Her doctor always discouraged her from writing poetry. Once he said, "Poetry is a fungus on the brain." But he could not dissuade her from writing poetry.
Despite her predicament, Elizabeth started writing a book titled The New Spirit of the Age. She selected five outstanding people including her favourite poet Robert Browning who wrote The Pied Piper of Hamelin in 1842 to amuse the son of one of his friends. Highly impressed by Elizabeth's poems, Browning wrote to her praising her poetry. He also expressed his love for her. Elizabeth was shocked to receive a letter from Browning. Although her heart responded to his love, she controlled herself owing to her ill-health.
Exchange of letters
Unable to suppress their feelings, Elizabeth and Browning started exchanging letters. Although Browning desired to meet her, Elizabeth kept on postponing the meeting, giving various excuses. When pressed, she laid bare the reasons for her inability to meet him. Apart from her physical disabilities, she told him that she was older than him. Elizabeth was 39 and Browning was 33.
As fate had decreed, they met on May 20, 1845 at Elizabeth's house. It was love at first sight. Browning was struck by her beautiful eyes. She found herself at a loss for words. After he left, Elizabeth wrote to him, "When you came you never went away." In another note, she wrote that only God could put them asunder. Ultimately, they tied the knot at the church of St. Marylebone.
Flushed with love and marriage to her beloved, Elizabeth's health improved tremendously. The Brownings then moved to a villa called Casa Guidi in Florence. Soon their house became a meeting place for poets, authors and politicians. At 43, Elizabeth gave birth to a baby boy and her motherhood completed her joy. Then she started writing 44 sonnets, praising her husband and his love. As all good things in life would come to an end, Elizabeth's lung disease began to trouble her again. Eventually she died on June 29, 1861. Before her death, Browning asked her, "Do you know me?" She whispered, "My Robert, my heaven, my beloved!"
Browning was so attached to his wife that he never wanted to marry again. When a woman wanted to be his second wife, he said, "My heart is buried in Florence." Browning too died on December 12,1889, putting an end to a colourful saga of eternal love.
Although Elizabeth is no more, her sonnet remains the best English love poem.