Drums, an integral part of Sri Lankan life
Sri Lanka has had many types of drums in use from ancient times and reference to these is found in classical literature, i.e. Pujawaliya, Thupawansaya and Dalada Siritha. Although around 33 types of drums are mentioned, today one could find only about 10 and the rest are confined only to names.
The main types of drums in use today are:
1.Gete Bera
2.Yak Bera
3.Dawula
4.Thammattama
5. Udakkiya
6. Dakkiya
7.Bummadiya
8.Hand Rabana (Ath Rabana)
9.Bench Rabana (Banku Rabana)
10. Dandu Rabana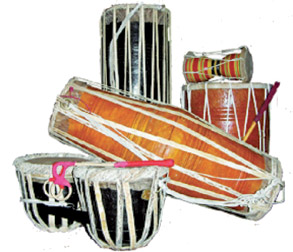 It is believed that some of those drums in use today are, Dawula, Udekki and Thammattama which had their origin in other Asian countries. This may be true, but today as a result of these drums being in use for a very long time, they have acquired their own shapes and materials used for the construction are also indigenous.
The drums are, therefore, unique to Sri Lanka and the rhythms played on them are also found only here. A study of drums would reveal that there exists a very close relationship between the drums and the people.
Beating drums have been very extensively used at different times of the lives of the people, i.e. at birth, death, healing ceremonies, rituals, religious festivals, in temples, war and even to dispel one's loneliness. Drums have become a part of their lives.
Drums were used for purposes of communication. During the time of Sinhala kings, all royal proclamations were made to the people by the drummers. Even after Sri Lanka came under the British rule, the practice was continued. It was normal to see in the village a drummer who came to a place where people normally converged, having a Dawula hung on his shoulder. He would beat the drum with a stick and then make the announcement.
There are special rhythms used for the purpose of communication. Anyone who is conversant with these could easily identify what was happening at the time.
There was Ana Bera (Bera is the Sinhala word for drum) which is a proclamation or an announcement from the king, Vada Bera indicates the taking away of a criminal for beheading, Mala Bera is played while a body is taken to the grave and Rana Bera, are used by the armies when they went to war.All Sri Lankan drums are turned out of wood and the sides on which they are played are covered with animal skins of many types depending on the drums.
Even the wood they use for each drum is different. It was normal for them to have a ceremony when starting work on the making of a drum, but it may be that at present due to the whole process taking a more commercial outlook, these little ceremonies are ignored.
During the early days, the drums were made for special people, those who would use them during their life time and leave for their children. Even today one could find drums more than a hundred years old. Such people for whom these drums were made also earned their living by using the drums.
During the time of Sinhala kings, villages were offered as rewards for the drummers who played regularly in Buddhist temples and the Royal Palace.
-Internet