Enid Blyton - the well-known children's story writer
Brer Rabbit series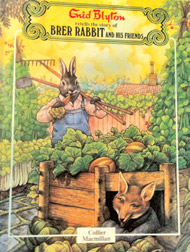 Brer Rabbit will never learn! He loves to play jokes, tricks and set traps for his friends - but once in a while, they beat him at his own game! These timeless stories of the briar patch trickster are re-told in Blyton's hugely popular and successful style. This collection contains many Brer Rabbit stories from the books Enid Blyton's Brer Rabbit Book, Brer Rabbit Again and Brer Rabbit.
The world famous Blyton signature is a byword for fun and action-packed stories, appealing to boys and girls from preschool to early teens. She created an unrivalled group of successful and internationally renowned series which include mystery and adventure stories such as The Famous Five, The Secret Seven, and The Mystery Series, school stories such as Malory Towers and St Clare's, fantasy tales such as The Faraway Tree (including The Enchanted Wood) and of course the much-loved Noddy stories for younger children.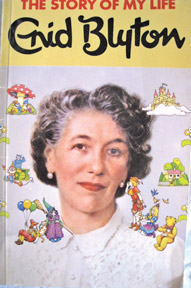 Enid Mary Blyton (August 11, 1897 - November 28, 1968) was a British children's writer known as both Enid Blyton and Mary Pollock. She was one of the most successful children's storytellers of the twentieth century. Once described as a "one-woman fiction machine", she is noted for numerous series of books based on recurring characters and designed for different age groups. Her books have enjoyed popular success in many parts of the world, and have sold over 400 million copies. By one measure, Blyton is the sixth most popular author worldwide: over 3400 translations of her books were available in 2007 according to UNESCO's Index Translationum; she is behind Lenin and almost equal to Shakespeare.
One of her most widely known characters is Noddy, intended for beginning readers. However, her main forte is the young readers' novels, where children ride out their own adventures with minimal adult help.
In this genre, particularly popular series include the Famous Five (consisting of 21 novels, 1942 - 1963, based on four children and their dog), the Five Find-Outers and Dog, (15 novels, 1943-1961, where five children regularly outwit the local police) as well as the Secret Seven (15 novels, 1949 - 1963, a society of seven children who solve various mysteries).
Her work involves children's adventure stories, and fantasy, sometimes involving magic. Her books were and still are enormously popular in Britain, Malta, India, Pakistan, New Zealand, Sri Lanka, Singapore, and Australia; and as translations in the former Yugoslavia, Japan, and across most of the globe. Her work has been translated into nearly 90 languages.
Internet