Back Cover Story
The Ceylon spotted deer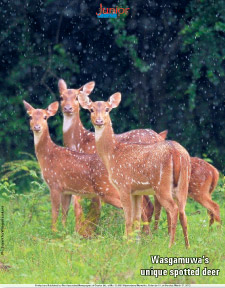 Our cameraman, Susantha Wijegunesekara clicked these photographs of spotted deer on a visit to the Wasgamu sanctuary. He found an alert herd of deer looking around.The Sri Lankan axis deer (Axis axis ceylonensis) or Ceylon spotted deer is a subspecies of the axis deer (Axis axis) that inhabits only Sri Lanka. The name chital is not used in Sri Lanka. Its validity is disputed, and some maintain that the axis deer is monotypic (i.e., has no subspecies). They are active primarily during the early morning and again during the evening, but commonly observed near waterholes anytime.
Axis deer are prey for the Sri Lankan leopard. It is also prey for sloth bears and jackals.Historically, axis deer were found in very large numbers in the entire dry zone of Sri Lanka, but these numbers have significantly reduced. Today several thousands of these deer are found in Sri Lanka. Sri Lankan axis deer are mainly found in protected areas in the dry zone, with a small number of herds living outside the protected forest areas.
Large herds can be found only in protected areas. It is known as Tith muwa in Sinhala and as Pulli maan in Tamil.