'Others have no right to intervene':
Govt has its own mechanism to resolve internal matters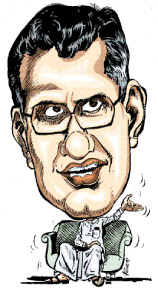 US Assistant Secretary of State Robert O. Blake and others don't have any right to intervene in the internal affairs of other countries said Technology, Research and Atomic Energy Minister Patali Champika Ranawaka.
Referring to a comment by Asst. Secretary Blake in a recent interview with the BBC Sinhala Service that the UNHRC resolution reaffirms that Sri Lanka had to take meaningful action on reconciliation and accountability, the Minister said the Government has its own mechanism to resolve the country's internal matters. The Government has already presented an action plan and it is now being implemented, the Minister told the Sunday Observer yesterday.
Minister Ranawaka queried as to what would have happened if LTTE Leader Velupillai Prabhakaran had lived today. If he was living there would have been 3,000 to 5,000 killings a year in this country from 2009 todate. Today the Government has stopped killings completely. The US should appreciate it.
He said Blake should realise two things. He has no moral right to talk about Sri Lanka's accountability issues, since they had committed more serious human rights violations as far as humanity and human history are concerned. The other is that we have been fighting a terrorist war where the USA failed. Since we had crushed the LTTE militarily and its technological know-how and other terrorist expertise could not be provided to other countries or international terrorist organisations.
Blake should be aware that Al Qaeda employed the same technology to attack the USA. All Generals in USA said that the war against terrorism is un-winnable in Afghanistan, Iraq and Yemen. Hence we gave a moral boost to all those US Generals by eradicating the world's most ruthless terrorism from Sri Lanka's soil. The US should take us as an example on how to defeat terrorism. They can learn a great deal from us, the Minister said.
"According to US war logs, they had killed over 109,000 people in Iraq alone. According to their so-called 10-year-progress report on Iraq, they had accepted that at least 138,000 people had been killed in Iraq. In drone attacks alone, they had killed 46,000 innocent people in Pakistan by destabilising the entire region."