Easter, the most important festival in Christian calendar - President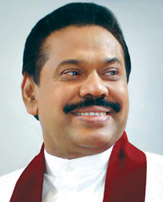 Easter, the most important festival in the Christian calendar is celebrated the world over today, said President Mahinda Rajapaksa in his Easter message.
The message said, "Marking the resurrection of Jesus Christ three days after his crucifixion and death, Easter symbolises the conquest of death bringing the spirit of renewal, revival and hope to the human race.
"The spirit of renewal of Easter helps bring to the world the Christian teaching of love and understanding, which in today's context reaches out to all of nature with a strong message for protection of the environment.
"With the prevailing conflicts among people and nations in many parts of the world, the Christian teaching of love and mercy that one is reminded of at Easter, can contribute much to bringing about tolerance and respect to the humane values that can help overcome conflicts and bring peace to the world.
In our country too, this Christian spirit of tolerance will help much in achieving the reconciliation we need as a united people. "I wish every Christian in Sri Lanka a happy and peaceful Easter".