To complement reconciliation and development efforts:
Tamil Nadu should take Lanka's steady progress into account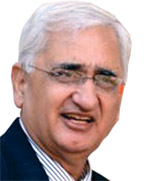 Political and other elements in Tamil Nadu should take the cue by obtaining a first-hand account of the steady progress Sri Lanka has made since 2009 to complement reconciliation and development efforts, an External Affairs Ministry of Sri Lanka spokesman said referring to the flat and outright rejection by New Delhi of Tamil Nadu's demand to "stop treating Sri Lanka as a friendly nation".
The Indian Government on Friday rejected in toto the resolution passed by the Tamil Nadu Assembly that called upon the Centre to stop treating Sri Lanka as a friendly nation and slap sanctions on it while demanding a referendum for a separate Tamil Eelam.
"There is no question of accepting them. That is not the only state that has a stake in this."
What about the others? There are many other states. There are many other Assemblies. The rest of India is not supporting this," India's External Affairs Minister Salman Khurshid told Karan Thapar in the Devil's Advocate program on CNN-IBN, regarding the TN Assembly's request.
He was asked if the Centre was rejecting the three crucial aspects of the resolution adopted by the Tamil Nadu Assembly on March 27. To each of the three demands, Khurshid said a firm "no".
"If all of India were to support it, it was then another matter. But if one state supports something, we are sensitive to its concerns but we do not necessarily have to," he said. The Assembly had adopted a resolution, moved by Chief Minister Jayalalithaa, calling upon the Centre to take firm steps against Colombo.
Meanwhile, Tamil Nadu State Assembly's request has come in for harsh criticism in the Indian mainstream media.
In a hard-hitting editorial, the Hindustan Times said, "At the end of most wars, the worst sufferers are often the first who need to move on from the past.
By entirely disregarding such efforts in a ravaged Sri Lanka, Tamil Nadu's Assembly and its politicians are seeking to render a simplistic conflict, which apart from civilians, has also claimed the lives of Sri Lanka's third President Ranasinghe Premadasa, and closer home, that of former Prime Minister Rajiv Gandhi.
Even in her ban of Sri Lankan cricketers, the AIADMK chief has set an artificial moral standard that India's other seemingly accommodating states will not be able to match. And even if they were so inclined, they should not follow suit", he said.