Prof. Gamlath passes away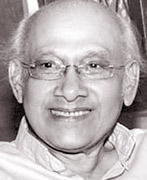 Eminent scholar and senior Professor of Sinhala Language Sucharitha Gamlath passed away yesterday morning at the age of 80.
Prof. Gamlath who graduated from the University of Peradeniya with first class honours after reading Sinhala and classical Indian languages was awarded his PhD in Philosophy of the University of London. He was a lecturer at the University of Colombo and was engaged in various literary activities including contributions to newspapers and the radio.