'UNP targets two million new members by end 2013'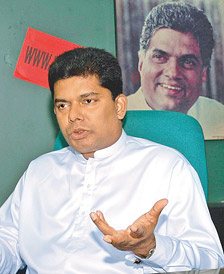 The United National Party suffered defeat after defeat since 2004 and has been in political doldrums during the past few years, riddled with internal disputes. However, recently the party sorted out all disputes and has got a new lease of life with the reorganisational activities conducted islandwide.
The Sunday Observer had an exclusive interview with the party spokesman, Galle District parliamentarian Gayantha Karunathilake to ascertain the present position of the party and its future course of action.
Excerpts of the interview are as follows:
Have the internal disputes in your party been fully sorted out?
A: There are no disputes as such, only differences of opinion on some issues. That is a democratic feature in a political party. Unscrupulous media people are trying to distort facts and defame the glory of our party.
This has been happening for the past few years and the government people are directly involved in this exercise. We have got official information that the job of some government politician is to vilify the Opposition members whereever and whenever possible.
Q: What is happening to the Deputy Leader's post of the party?
A: Well, it is left to the Working Committee of the party. They might decide on the matter very soon.
Q: There is speculation that the Deputy Leader post would be scrapped soon. Is there any truth in it?
A: We didn't have such a post in the party during the times of previous leaders. Sometimes, the Working Committee might decide to do so. I can't comment much about it since I am not aware of it.
Q: Have you completed your membership recruitment drive?
A: Our target is to recruit a minimum of two million members by the end of this year. We have carried out this program in a few districts already and the response had been very encouraging.
The Government had got a bit perturbed about it and started spreading false stories that only a very few people attended our meetings and that the membership drive was not effective. What is the reason for government ministers to talk about our membership drive? That itself shows the degree of excitement of these people with regard to our reorganisational activities.
Q: It is likely that elections for two Provincial Councils will be held this year. How do you hope to launch your election campaign to capture power?
A: To be very frank, we are not very interested in provincial elections held on a staggered basis. We focus on the next General or Presidential election where we are certain to capture power. We have already formulated our election strategy.
Q: What is your main strategy to defeat this powerful regime?
A: I am sorry to hear that this is a powerful regime. See the number of conflicts, problems and disagreements among government ministers and coalition partners. Some senior ministers are not happy at all with the present situation in the SLFP. Coalition partners are divided on policy matters, political matters, administrative matters and on certain so called development issues.
Our main strategy is to educate the public on corruption. Generally, this is our main strategy, but I do not want to disclose to the media the subtle points and the intricacies involved in this exercise.
We will execute our plans precisely at the right time and we are quite certain that this maladministration will be completely out voted at the next national election.
The government has failed in all crucial areas of governance. It has failed miserably in its foreign policy. See what has happened to our nation today. They have breached the cordial relationship with India without whose support we can't survive. We have antagonised the superpowers. The negative repercussions of these actions will surface in the near future and the entire nation will have to pay for them.
Corruption in the country under the cover of development is deplorable. There had been instances where politicians and some officials had demanded some gratis to approve certain facilities for development projects.
Some projects which incurred huge sums of money had not produced the desired results. Mainly due to unsystematic planning.
This government is not interested in scrutinising impact assessment reports prior to launching large-scale projects which involve huge amounts of money and some of the projects have proved futile. Whose money is going down the drain? It's the national wealth and naturally the cost-of-living goes up. This is all wrong. As a responsible opposition, we can't let the government continue these actions any further.
See what has happened in the education sector.
They cannot even conduct an examination without penalising students. Primary, secondary, tertiary and higher education are in a mess due to improper planning the unrealistic approach towards problems and the uncalled for behaviour of responsible persons.
Education is the vital nerve of a healthy nation. We can't afford to let that suffer any longer.
However much the government may boast, the health sector is faced with innumerable problems. There are no essential drugs in hospitals. There is a lot of corruption with regard to the supply of medicines and the import of equipment to hospitals. There is unrest among specialists, medical officers paramedics, nurses and even minor employees in the Health Ministry with regard to salary anomalies and various other facilities.
Cost-of-living
The cost-of-living had reached unbearable levels that even a well-to-do person finds it difficult, let alone the ordinary public. People are undergoing untold hardships. Five hundred grams of sprats cost over Rs. 480 while 500 grams of greengrams Rs. 150.
Similarly, the cost of all essential commodities had skyrocketed, mainly due to the wrong economic policies of the government.
A bag of cement is Rs. 1,000 and prices of all building material have gone up by 40-50 percent and the masses are not in a position to build even a small house of their own recently.
The unexpected hike in petrol and diesel has contributed to the escalation of prices of all items, but the cost of a barrel of crude oil in the world market has not increased recently.
With the unbearable cost-of-living, some poor people have cut down the number of main meals to two from three a day. In some cases, parents forgo a meal while barely feeding their children. Life has become extremely difficult for the ordinary man today.
Q: Do you think that, under a new UNP government, the cost-of-living could be reduced?
A: Of course, with proper planning sans corruption, we can certainly bring down the cost-of-living on most essential commodities. UNP regimes in the past had done it and we are quite confident that we can do it in the future too.
Q: But people say that the UNP will not return to power because of its internal problems. What would you say about that?
A: Who are these people who say so? As I told you earlier, it is the government people who are perturbed with our re-organisational activities. People are rallying round us wherever we go and want us to save the country from these politicians who do not possess statesmanship quality to govern a country.
We have got badly cornered among the international community owing to the poor and feeble manner in which they handle international affairs.
See what happened to us at Geneva. We have been constantly telling the government to implement the LLRC recommendations which would have strengthened the democratic institutions in the country. But they never listened to us and instead tried to brand us as traitors. Finally, what happened? This is a sorry situation.
Q: Even with some shortcomings, the government is going from strength to strength with peace in the country. What have you got to say about it?
A: We gained peace, way back in 2009 and now we have completed almost four years since then. During the last three years, the cost-of-living had gone up by 50-60 percent. Is that the dividend or the benefit of peace that we enjoy? People are now interested in a regime change and we are quite positive that we could achieve victory at any future national election.