Mystery deepens in killing mother and maiming son
Katuwawala Ehellape in Boralesgamuwa is a densely populated busy suburb of Colombo. However, at night it resembled a ghost town as residents retired early to bed. The dawn of March 22 was quiet as usual. However, pre-monsoon clouds had made the area pitch dark. Dogs howled incessantly, breaking the silence and creating an eerie atmosphere.
Fifty-two-year-old Tilaka Nandani Jayasinghe lived in her partially built upstair house at Katuwawala Ehellape in Boralesgamuwa with her younger son. She was an ambitious woman who never took setbacks for granted. She endured many hardships to climb the career ladder and made a success of her life. Her struggle bore fruit when she qualified as a technical officer and obtained employment at the Maharagama Cancer Hospital Laboratory. Tilaka lived with her younger son, a bright student at Isipathana College. He was recognised for his exceptional skills in Mathematics. He passed the GCE Advanced Level examination with flying colours recently securing three As in the Mathematics stream.
Tilaka with all her career success faced certain drawbacks in life. Her husband, a retired Air Force officer had left her and was living separately with his older son at Diyagama, Homagama, police said.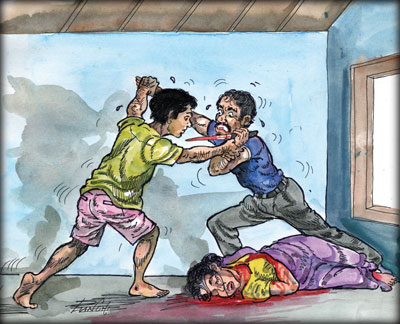 Tilaka, however, lived on her own with the income she earned at the Cancer Hospital. However, she had one last ambition in life. That was to complete the two-storeyed house and hand it over to her younger son. She had promised him that if he did well in the examination and was selected to the university, she would expedite the construction work on the house so that they could live a comfortable life.
Obedient
It was wish her son endorsed. He studied very well and was an obedient child. His ambition was to make his mother happy and he did everything within his capacity to achieve his target. His dream came true when he obtained four A's in the AL examination. Police suspect that the promise of wanting to complete the building of the house when her son brought home the news that he had passed the AL examination with flying colours might have led Tilaka to an early grave. "I want to complete the construction work of this house so that my son and I can live peacefully. "This is a promise I made to my son.
Now the time has come to fulfil this promise. Can you give me an estimate for the construction work so that I can budget my finances and decide when we could begin building". This was the conversation that Tilaka had had with a Bassunnehe. It is rumoured that from then onwards Tilaka had begun a clandestine relationship with the Bassunnehe - who is one of the suspects in the crime.
Tilaka as usual had arrived after work on March 21 and indulged in her normal household chores. After preparing dinner she had dined with her favourite son who loved his mother very much. Tilaka had made many sacrifices for her children especially for her younger son who she loved very much. Tilaka had many dreams and plans for him.
She wanted him to enter the university and pass out as an engineer. She had plans to give him in marriage and take care of his children. But destiny had other plans for him.
It was between 12 midnight and 12.15 a.m. when W. A. Nissanthi, a neighbour heard blood curdling screams of someone calling for help. "It was an eerie night when Katuwawala residents heard the screams of someone in the neighbourhood but they could not identify who he was. "It was difficult to figure out what was happening but I managed to identify the voice as that of Tilaka's son. We ran towards Tilaka's house and found her son at the entrance soaked in blood. It was an awful sight," she said.
Tilaka's son was lying with severe stab injuries and he had crawled out screaming for help saying that an intruder had crept into the house and had stabbed his mother and tried to kill him too. Nissanthi said that another neighbour Mallika after hearing the cry had called 119 police emergency and alerted them about the situation. The Police rushed to the scene and took Tilaka and her son to the Kalubowila Hospital.
Intruder
The police party had seen several blood stains scattered around the area. Jayantha Pushpakumara, Tilaka's husband, said he received a call around 12.30 am from the Kalubowila Hospital Police Post that his wife was in a critical condition.
He later on came to know that his younger son too was in a critical condition in the hospital.
It was later found that the suspect had entered the balcony from the partially built staircase of Tilaka's house. He had then used a rope and got down into the ground floor and then entered Tilaka's room.
What took place after that is unclear. However, police said that the trail made by the blood stains, Tilaka appeared to have crawled towards her son's room. Subsequently the son realising what had happened might have confronted the intruder which resulted in the son too being stabbed with the same knife.
Police said the motive was unclear. It could have been a robbery. However, it is rumoured that a mason bass who had a close friendship with Tilaka might have stabbed her.
Speculation is rife that a sex maniac may have carried out the assault when she refused his advances. A personal dispute has also not been ruled out. The police said the suspect had jumped off the parapet wall and entered a neighbour's house.
He had washed the blood stains and changed. A spokesman for the Police Media Unit said that several suspects have been questioned in this regard.