Twisted infatuation leads to double killing in Pulmudai
It was a Friday night. The villagers of Mahasenpura in Pulmudai had retired for the day with a lot of expectations for the following day.
But they never imagined what was in store for them the next morning.
Thirty-eight-year-old Hevamudiyanselage Sooriya Bandara had been attached to the Civil Defence Force. His wife S. Jeevani, 36, was a housewife. Sixteen-year-old Imalka Priyadarshani and 8-year-old Sewwandi Priyadarshani were their two daughters. They were a well-known family among the villagers of Mahasenpura.
Jeevani cared for her husband and two children. She dreamt of a bright future for her family. She knew that her husband Sooriya Bandara spent a lot of money on liquor and gambling and his monthly salary was not enough to make ends meet.
Since he was known as a tippler among the residents of Mahasenpura he built a good companionship with his neighbours.
Rupika, an 18-year-old tomboy gradually developed a friendship with Sooriya Bandara and his family. She cut a bizarre figure in the village. No one could make out whether Rupika was a male or female.
But villagers felt that Rupika was a woman although she had always acted like a boy. Villagers say Rupika always wore T-shirts and trousers. She could even climb trees consume liquor and smoke.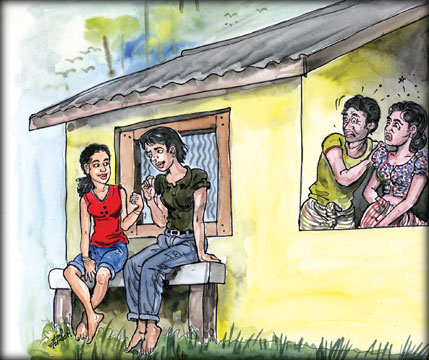 Sooriya Bandara was a drunkard and Rupika had a sinister motive and knew she could achieve her purpose by developing a friendship with his family. Rupika had built a close rapport with Jeevani's elder daughter Imalka Priyadarshani which had culminated in a sexual relationship.
Imalka's parents vigorously opposed the immoral approaches of Rupika and had advised many times to stop it. Rupika had rejected all social norms and ethics. She started to develop a severe hatred towards Sooriya Bandara and his wife Jeevani for opposing her advances towards their daughter and planned to get rid of them.
In this backdrop Sooriya Bandara was totally unaware of the unfolding events and the hatred simmering in Rupika's mind against them. He decided to visit one of their relations in Polonnaruwa for the Sinhala New Year. Rupika had also joined him. However, Rupika had to face the wrath of Sooriya Bandara's relations during the journey as their relatives disliked her relationship.
They blamed Sooriya Bandara and his wife over the immoral behaviour of their children. Rupika's animosity increased day by day.
She could not control her anger and hatred against Sooriya Bandara and Jeevani. She finally decided to get rid of her parents.
After they returned from Polonnaruwa Rupika left for Sooriya Bandara's house. Her modus operandi was to lure him for a drink and kill him. Sooriya Bandara looked forward to the opportunity to have some liquor. But he did not know that it was to be his final journey.
Sooriya Bandara and Rupika were addicted to liquor and the later wanted to pursue her immoral relationship with Imalka. She believed that she would not be able to do so with Sooriya Bandara alive. Finally, she chopped off Sooriya Bandara's head with an axe.
Rupika then turned to Jeevani and attacked her with the same axe, killing her instantly.
The naked body of Jeevani was later found in a pool of blood with severe cut injuries.
Police said after killing the couple Rupika had fled the area with the two daughters. The Kandana police OIC Chief Inspector Lucky Randeniya and a team of officials had later arrested Rupika with the two children at Batagama, Kandana and handed them over to the Pulmudai police.
The OIC of Pulmudai police Inspector DMTB Ganegoda and his team are conducting further inquiries on the instructions of SP Bandula Wijewardena and ASP Anura Silva of the Trincomalee police division.