Janashakthi partners Lanka Jalani in Ma-oya water project
Janashakthi Insurance will fund the Ma Oya river catchment area conservation project and have chosen Lanka Jalani - the Sri Lanka Water Partnership (SLWP) as program advisers to administer the project to be conducted by the Colombo University.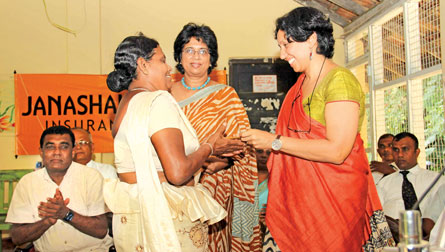 The study, 'Water quality distribution and its impact on community livelihood development in the upper catchment of the Maha Oya river basin' is led by Dr. Ranjana U. K. Piyadasa.
At the inaugural event, Janashakthi and Lanka Jalani conducted a series of activities to create awareness among the communities in the Ma Oya catchment area in Rahalla, Aranayake.
General Manager Sales and Marketing, Janashakthi, Shehara de Silva said, "When it comes to conserving our natural resources, all of us from young children to big corporations and the government should bear responsibility. That is why as a responsible corporate entity we are engaged in the Ma Oya catchment conservation project."
Dr Piyadasa said, "Groundwater represents an important source of drinking water and its quality is threatened by a combination of over-abstraction and chemicals (including nitrate and pesticides) and microbiological contamination due to poor sanitary management."
"Groundwater resources in Sri Lanka are limited, as 90 percent of the landscape is underlain by poor yielding crystalline precambrian metamorphic rock formations.
Intense agricultural and urban development has created big demand on ground-water resources in urban areas worldwide and has also placed these resources at greater risk to contamination," Dr Ranjana said.
The study plans to evaluate groundwater distribution and pollution by agricultural practices and sand mining in the upper catchment of the Maha river basin in the Kegalle district.
Results from this investigation will assess the characteristics of shallow ground water in organic-rich urban plain environments and its effect on contaminant occurrence.
The findings will improve the knowledge of the quality of shallow ground water in catchment environments and improve assessments of the risk of contamination of ground water in this critical setting.
The work will include documentation of groundwater resources, hydro-geological conditions of the area. In the proposed study all the tube wells and selected shallow, open, dug wells scattered in the upper catchment areas will be selected for the surface and ground water monitoring program.
Wells will be selected considering the landscape pattern.
Sampling of water from the selected dug wells and surface water will be conducted at monthly intervals during the research which will help to monitor the quality and aquifer hydrology during dry and wet seasons as well. The program commenced at the Rahalla West Junior school with a meeting of schoolchildren, parents, teachers, environmental authorities and the public. Chair, Sri Lanka water partnership, Kusum Athukorala and Dr Ranjana U. K. Piyadasa of Colombo University were present.
Three schools in the Rahalla area received grants to set up herb gardens while environmental experts and government officials discussed problems and solutions with regard to catchment conservation.
Kusum Athukorala said, "Water is one of the most precious natural resources that Sri Lanka has in abundance. However, due to negligence and lack of awareness we continue to pollute this resource ironically endangering our own survival in the process."