DHL Innovations Day: Outstanding inventions honoured
For the fifth time, Deutsche Post DHL honoured outstanding inventions with its annual DHL Innovation Award for scientists, entrepreneurs, customers and employees.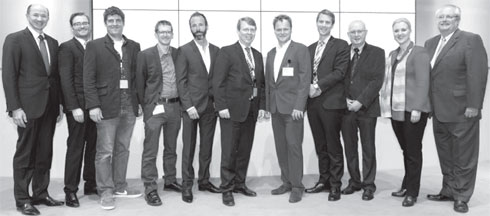 Volvo was honoured for the most innovative customer solution, whereas Harald Lemke from Deutsche Post DHL's Mail division won the award in the category, most innovative employee.
DHL also honoured members of the Ruhr University Bochum, the Technical University of Denmark and French company Orange Labs for jointly developing the crypto algorithm Present.
The award ceremony was part of the DHL Innovation Day, where experts from the worlds of science, industry and media discuss current logistics trends and topics around the use of 'big data' and cloud computing.
"The drive for innovation and finding solutions for today's problems is a key element to overcome obstacles and establishing future growth," said DHL's Chief Commercial Officer, Bill Meahl. "As a global player we're committed to finding innovative logistics solutions and are delighted to discuss trends and ideas with customers, employees and external partners."
Volvo received the award as most innovative customer for the project, Maintenance on Demand (MoDe).
It brought together 11 companies and institutions from all over Europe and focused on developing a commercially viable truck that identifies where and when maintenance is required.
Deutsche Post's Harald Lemke was honoured as the most innovative employee.
He pressed ahead with DocWallet, an app for mobile devices that ensures document security by fully encrypting files.
In the category, the most innovative scientist and entrepreneur, the team of Prof. Gregor Leander, Prof. Dr. Christof Paar and Dr. Axel Poschmann was awarded for developing the algorithm Present, which is a secure and energy efficient cipher tailored for RFID tags.
The annual DHL Innovation Day was launched in 2008 to highlight how significant innovations are for Deutsche Post DHL and the overall logistics sector.