A sustainable solution for energy consumption
Until 1996, our generation portfolio was governed by hydro power generation which contributed 90 percent of our requirements, and as such the Ceylon Electricity Board (CEB) had no burden in delivering power.
However, at that time, the demand was 30 percent of the present demand and government policy was to have power cuts whenever there was a drought. We still the remember ten-hour power cuts during the1996/1997 period.
Thereafter, the government decided to give power at any cost and invited private emergency diesel power suppliers until low cost power plants were brought into operation.
In spite of coal based power generation being the lowest-cost expansion plan of the CEB since the 1980s, government did not allow any coal power plants to come into the picture.
Despite heavy resistance by the public and environmental lobbies, President Mahinda Rajapaksa took a bold decision to go ahead with the Norochcholai power plant, though it took 20 years to take this decision. We as electricity consumers pay the price for long lead time in the decision-making process.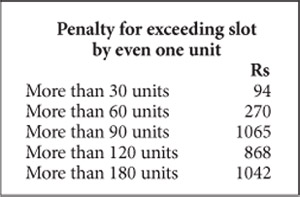 Experts in the electricity sector promised to reduce electricity tariffs after the completion of the coal power plant but the truth is that consumer demand increased over time and the Norochcholai or Upper Kotmale power plants could not meet the ever increasing demand and we depend on heavy oil and diesel based generation to an alarming 60 percent of total generation and consumers pay a huge price and a fuel adjustment charge of 40 percent on top of the electricity tariff.
It is anticipated that our economy will grow at six percent per annum and electricity consumption will grow at 9-10 percent per annum until 2020. By 2020, small and medium industries will play a major role in the economy which consumes high electricity and the government should take measures to reduce electricity tariffs to bring this country to a middle income economy.
By end of 2013, the expected consumption is 12,000 million units and it will reach 25,000 million units by 2020 if industrial sector and commercial sector grows at the present rate.
A 300 MW coal plant can deliver a maximum of 2,200 million units. So Sri Lanka needs at least another seven Norochcholai-type power plants before 2020 to have a firm base load of 15,000 million units with 2,000 MW of power generation from coal power.
CEB-owned hydro power and all other renewable energy generation can contribute another 6,000 million units by 2020 only if there is a favourable policy for non conventional renewable energy generation from mini hydro, bio mass, waste to energy and wind power. Yet, there will be shortfall of 4,000-5,000 million units which will have to be provided by other means, such as household solar power on net metering, private power and CEB owned heavy-oil power plants.
Can the CEB handle such a large number of power plants? Efficiency in operation, cost effective generation, good governance are of paramount importance. The role of the Public Utility Commission (PUCSL) is to safeguard public interest.
Even now, the PUCSL has issued an enforcement order on the CEB but the CEB management not only ignored the enforcement order, but took legal action against the PUCSL.
I propose that the CEB be unbundled soon and general managers be appointed to each unit so that engineers will also be motivated to work towards efficient management of their units. Each coal power plant can be a separate profit making entity delivering power at low cost and in an efficient manner so that the public will benefit. All hydro power plants should be moved out of CEB management and made into a public company with shares issued to the public from which government can collect at least $ two billion, even if the government and CEB subsidiaries keep 50 percent of shares of the hydro power plants that supply 1,300 MW of power.
This money could be used to settle government loans in the power sector and the balance invested in coal power plants. This is one method to make the electricity sector self sustainable with low-cost generation.
The public will not get any benefit until all power generation is unbundled, all hydro power plants are made public private partnerships and government cancels all long term contracts with petroleum based generation companies and get them on to a level playing field with a floating tariff which is decided on by the lowest-cost unit commitment policy of the Systems Control Centre of CEB.
The PUCSL can play a major role if such a mechanism is implemented and the public will be assured of transparency in management. This is not a new policy but successfully adopted by all developed countries.
Implications of present domestic tariff
What we have to pay as domestic consumers is depicted in the table. As per the tariff calculation methodology, the heaviest penalty will be borne by those who consume more than 90 units while 'poor people' who consume less than 30 units are heavily subsidised. I find no reason for some politically motivated groups to have such an uprising as no country has given electricity at a low tariff of Rs. 6.25 per unit for poor people.
In fact, the increase of electricity tariff for the poor category is just Rs. 75 but we all understand that they spend more than Rs. 300 per month on their mobile phones. The worst case in the present payment methodology is the heavy penalty for using just one unit more in each slot. The table shows the penalty payment if anybody reaches the next slot.
The above table shows the heavy penalties to be paid by those who consume more than 90 units. In general, any house with a refrigerator, television set, two fans and three bulbs, will consume more than 90 units however much they try to save. The average salary of a lower middle class family is around fifteen thousand rupees and their electricity bill is 20 percent of the salary which is not justifiable. If telephone bills, water bills and other utility bills are added up it will be around 25 percent of monthly income. The aggregate of all utility bills in any developed country is less than three percent of monthly income but Sri Lankans will be heavily burdened and squeezed due to bad decision making by governments.
The writer is a Senior Fellow in Entrepreneurship at the University of Moratuwa.