Biz Briefs
NDB promotes good health

NDB partnered 'Sri Lanka Water Partnership' to improve water supply and sanitation facilities in schools, thereby improving access to education and promoting good health and well-being of students and teachers.
Sustainable management of water resources is one of the biggest challenges of the 21st century. Forecasts predict that in 2025, more than half of the world's population will live in regions with water scarcity.
---
CMI and KPMG collaborate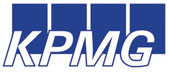 The Sri Lanka branch of the Chartered Management Institute, UK, one of the largest professional bodies for management practitioners, recently entered into a long-term arrangement with KPMG's member firm in Sri Lanka to collaborate on a series of knowledge-sharing programs to enhance professional management practices and collective knowledge sharing and networking opportunities among business managers.
The Chartered Management Institute (CMI) which has over 90,000 members in the United Kingdom and in other branches and chapters across the globe, works with individual managers to help them achieve enhanced results through the development of increased professionalism and management practices.
---
UTE launches Caterpillar Backhoe
United Tractor and Equipment (Pvt) Ltd (UTE) launched the Caterpillar 428 F Backhoe Loader recently.
CEO, UTE, Riyad Ismail said, "A Cat Backhoe is a versatile product in the construction machinery range and it can be used in any basic construction or infrastructure requirement. This new version of the backhoe is sure to maximise productivity ensuring high levels of efficiency with ease of operation which is unique to the new F series backhoes."
"Immediately after the launch of 428F Backhoe Loader, the machine on display was purchased, confirming the trust that clients have placed in us," he said.
---
SLI partners Sooriya Mangalya – 2013
Sri Lanka Insurance (SLI) partnered ITN in organising Sooriya Mangalya 2013 at Rifle ground, Kundasale, Kandy.
Sri Lanka Insurance strives to keep the Sri Lankan traditions and rituals alive to be handed down to our future generations. Partnering Sooriya Mangalya was another effort by the company towards this cause.
---
Supem Fernando Association - regional representative for Bridgwater College
Bridgwater College of South West England, has appointed Supem Fernando Association (Pvt) Ltd (SFA) as their Regional Representative for South and South East Asia Regions.Bridgwater College is funded by the UK Government. Many of Universities in UK and in other countries chose their Regional Partner Offices from Indian education companies (based in India) and this time a Sri Lankan education company was chosen.
SFA was officially appointed at a ceremony at the SFA mini auditorium by Bridgwater College Senior Manager, Wendy Dick. Head of International Department, Marie Lizion and Head of Health and Social Care Department, Markia Watts were present.
---
Serendib Flour Mills receives ISO certification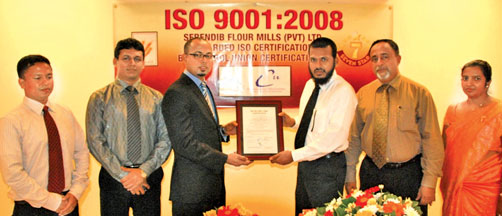 Serendib Flour Mills Ltd (SFML) recently received ISO 9001: 2008 Quality Management Systems Certification from the Control Union Inspections, Netherland.
With this certification, SFML, its products and processes are now on par with international standards, while its Seven Star wheat flour products can compete effectively in local and international markets.
Here Chief Financial Officer, Serendib Flour Mills, Mohamed Riyal receives the certificate from Managing Director, Control Union, Sanjaya Pathirage (third from left). (From left:) Sampath Wanniarachchi and Supun Jayasinghe of Control Union, Head of Sales and Marketing, Serendib Flour Mills, Abdul Cader and Head of Quality, Serendib Flour Mills, Ms. Hemani Gunatilake look on.
---
Union Assurance wins two awards
Union Assurance (UA) won two awards at the recently concluded SAFA Awards ceremony for financial reporting in the South Asian region.
"It is the sixth consecutive year that UA has been recognised at the SAFA awards, further strengthening the company's commitment to enhance transparency, good governance and adequate disclosures to satisfy varied expectations of diverse stakeholders," a spokesman for the company said.
"UA was presented the first runner-up award for quality financial statements and also received the second runner-up award for Corporate Governance Disclosures. UA was the only insurer in the region to have bagged two awards this year as well," he said. "Good governance and transparency are the main pillars of UA's operating model.
The company has also adopted the code of best practice issued jointly by the Institute of Chartered Accountants of Sri Lanka and the Securities and Exchange Commission of Sri Lanka and Corporate Governance rules as per the listing rules of the Colombo Stock Exchange," the spokesman said.
---
Huawei secures third place in smartphone market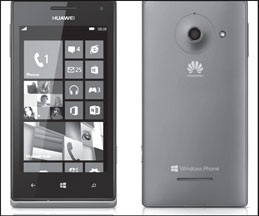 "Huawei has secured the third place in the local smartphone market. We are very pleased with this result," said CEO Huawei Technologies Lanka (Pvt) Ltd, Huaging Sun.
"Huawei is committed to making smartphones more accessible and to enrich and empower the lives of customers." Singer Sri Lanka PLC is the distributor for the Huawei range of smartphones and devices.
CEO, Singer Sri Lanka, Asoka Peiris said, "We are delighted that Huawei has been propelled to the number three position in the smartphone market in Sri Lanka within a short period. We aim to strengthen the availability of Huawei devices in the country through our dealer network." Huawei sold 16 million phones globally in the third quarter of 2012.
"Since the tie-up between Singer and Huawei mobile devices in 2012, the brand's popularity and sales witnessed an immense growth trajectory,|" a spokesman for the company said.
---
DVB Avurudhu promotion concludes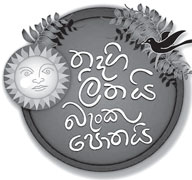 DFCC Vardhana Bank (DVB) conducted an Avurudhu promotion, Thegi Lithai Banku Pothai during the season. It concluded on May 2.
Customers received gifts ranging from branded pens, caps, gift certificates, dry irons, sandwich toasters, jug kettles, stainless steel frying pans, water filers, blenders to microwave ovens, digital cameras, 32 inch LED TVs, laptops, washing machines and two-door fridges.
"The electronic items given as gifts were backed by the Singer Sri Lanka warranty and were genuine branded products purchased from the authorised agents," a spokesman for the bank said.
---
Dialog rewards roaming customers
Three lucky Dialog roaming customers, Rohan Patrick Fernando, Priyanthi Elizabeth Fernando and Pedro Rohitha Grero received an all-inclusive package for two to watch the Malaysian GP (Grand Prix), which included airline tickets, accommodation, race tickets and transfers to and from the airport and Sepang International GP Circuit.
---
Prima Kottumee launches new campaign
Prima Kottumee recently launched its latest campaign with the Hot and Spicy Fun Island commercial and song trailer at the Kingsbury Hotel.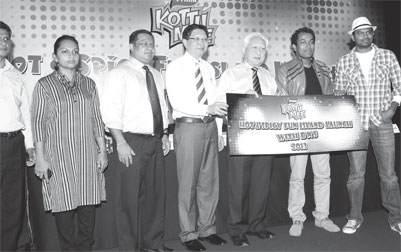 Prima Kottumee with Bathiya and Santhush released the Hot and Spicy Fun Island trailer, giving a preview to the upcoming Fun Island song with visuals.
The launch was released with a Prima Kottumee television commercial with BandS. The trailer and TVC were uploaded to digital media at the event to reach online audiences.
Group General Manager, Prima Group SL,Tan Beng Chuan, General Manager, Ceylon Agro Industries (Prima Group SL), Shun Tien Shing, and Senior Business and Marketing Manager of Ceylon Agro Industries (Prima Group SL) Sajith Gunaratne were present.
Santhush of BandS said, "The BandS journey with Prima Kottumee has been a very interesting one for us and our fans.
The brand Prima Kottumee has seamlessly connected with BandS fans all around the island and we are delighted to be a part of a hot and spicy project for yet another round."