Waterfalls in Sri Lanka
Bo Ella : Kegalle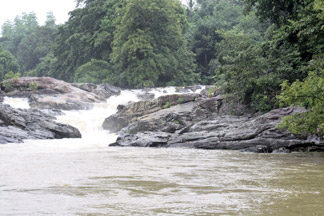 Bo Ella is said to be a waterfall supplied by the Ma Oya. The Ma Oya starting at Avupiniella is supposed to be the only river in Sri Lanka that does not connect to any other river flowing directly to sea meeting it at Negombo. According to folklore it is said that if one were to tie a stone on to a string and lower it into the water it will never hit the bottom.
Stories also claim that there is a hidden underwater cave under the waterfall which can be used to hide in. There is a section which has become like a little reservoir owing to the tiny gap between which the water has to flow to go downstream.

---
Olu Ella
Having its humble beginnings in Wewiyathalawa where the local TV station ITN has its tower erected, this is a picturesque waterfall that according folklore has never run dry even in the most unforgiving drought. They say that this waterfall derives its name from the likeness it bears to the white Olu flower because it's multiple falls look like the milk white petals of an Olu flower.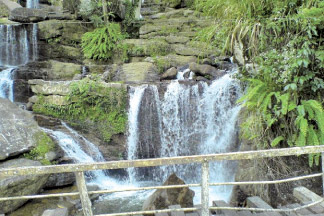 There are two hydro power stations that draw power from the water churning in the Olu Ella and the water from this fall also helps irrigate the surrounding villages. According to villagers during the rainy season the waterfall gets so engorged with water that they have to cross the bridge made of wooden beams with caution as the fine spray created by the fall creates a total whiteout of the road ahead.
The villagers also say that you get drenched if you try to cross the bridge on foot during the rainy season.
This waterfall joins up with the Wee Oya(river). The villagers also said that once the wooden beams on the bridge had got washed away as the waterfall had been that strong. Through natural circumstances a huge rock slab has got embedded between the bridge and the fall which acts as a natural barrier to break the fall of the water, today this acts as a natural failsafe to protect the bridge if the waterfall becomes too strong.
Directions and location
To get to Olu Ella you must find the 16th milepost via Yatiyanthota in Pellumpola. The bridge in front of the fall is located just passing the 16th km post on B482 route.