Cover Story
In pensive mood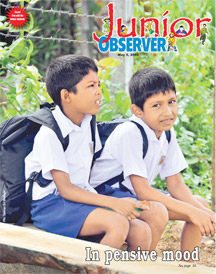 Two schoolchildren from a remote school in Anuradhapura were seated by the roadside biding their time, waiting for a bus to get home.
Our photographer Saman Sri Wedage captured this sight while on his rounds in Anuradhapura
---
Back Cover Story
Waiting for the right move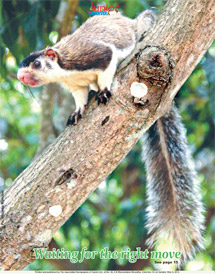 This Giant squirrel or Dandu Lena (Ratufa macroura) was spotted in the wilds of Wilpattu by our photographer Nissanka Wijerahne
The giant squirrel is distributed throughout the island in suitable habitats with three different subspecies. Wet Zone and highland subspecies have blackish brown to jet black with totally black or 'frosted with white' tail, while Dry Zone subspecies have grizzled grey or brown upper parts with heavily frosted tail. They are diurnal and arboreal, always live in forests or nearby villages with some trees.
Its diet consists of leaves, barks and young twigs and shoots of trees and also wild fruits, berries and nuts in seasons. It is said that insects, grubs and occasionally bird eggs are also included in its food. They build their nests among branches of tall trees within its territory demarcated by a solitary squirrel or a pair, using small branches and twigs. Usually they build three to four nests and use them for sleeping and bringing forth young.