Drawing an elephant
While drawing an elephant, the trunk is the most important organ for the animal to collect food. The trunk works nearly 18 hours a day gathering nearly 400 pounds of food and 40 gallons of water for drinking.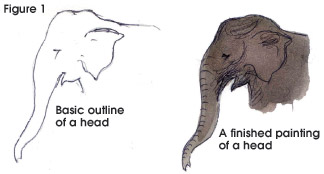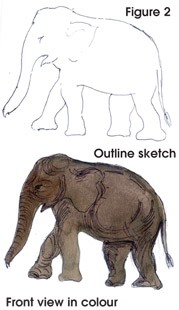 Elephants eat not only leaves but barks, twigs, branches and thick-stemmed grass.Another notable feature is the tusks, which are really elongated teeth. The male Asian elephant carries tusks. The physical appearance of the Asian elephant is beautiful. It has a round and well-proportioned body and its back is more saddle-like.
The Asian elephant's height is generally 10 feet and weighs four to five-and-a-half tons.
The problem is to draw and paint an elephant's head. The illustration on Figure 1 on the left shows an outline of an elephant's head while on the right is a head in colour.
I have used a flat colour and completed with a thin pen and ink lines to give a shading effect.
Figure 1 shows a profile of an elephant's head. The colours used is a mixture of burnt Sienna (brown) and a thin blackwash.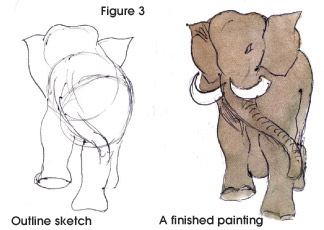 Figure 2 is a frontal view and is an outline drawing to give the proportion of the body structure and on the right is a complete colour drawing.
A wash of pale brown, composed of burnt amber is added to give a shaded effect. To show the tusks, I have left white space. You will notice a thin outline drawn using a scribble pen to complete the figure.
Figure 3 is a complete picture of an elephant. On the is an outline drawing to show the shape of the body structure and at the right is a complete picture in colour.
A mixture of burnt sienna added with a little black is used to finish the painting.At first a simple wash is applied to the body, paying particular attention to details such as trunk, ears and legs.
The colour is then strengthened and deepened, followed by a thin outline.
The paper used is 250 grams Bond or Kent paper. No. 8, 2 and 3 sable hair brushes and a pale brown is the colour to be used.