Ashanthi reaches out to the future
Sitting opposite me sans her usual stage image is singer Ashanthi the epitome of Frank Sinatra's hit "I Did It My Way..." No baggy trousers and heavy shoes, no colourful T shirt, no shining and sparkling jewellery on her wrists and chain round her neck.
This is the other side of the mature, level-headed young singer handling a successful career in a demanding business with admirable competence and professionalism. These are ever changing times when it comes to the music business. There is a notable generational gap with the continued success of rap and hip-hop.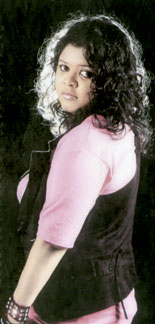 Strong in mind, courageous in approach and creative to do her own thing Ashanthi's recent crossover CD release was 'Rock the World' for Universal. The CD carries nine tracks some featuring Ranidhu, Reshaman and Benny Dayal, from India. It goes without saying that the earlier CDs in Sinhala were fast moving and successes too. There was Oba Wage Mai and Sandawathuren.
Question: Now that you have released your CD 'Rock the World' containing your English original songs for Universal what was your intention in doing so, how did it all come about and what's going to happen in the future?
Answer: My intention to release this album was to actually take the Sri Lankan English music on to the next level. I felt that in terms of what we do right now in the English music scene it is very small, but for us to branch out into other markets we have to look elsewhere. So India was the biggest place I could think of. It's really hard to go straight into a mainstream market.
Us being Asians and being deli as they call it, I think it's better to go through your neighbouring countries, gather the forces within Asia and then take the world by storm. So I feel little by little I'm conquering different areas. I've conquered Sri Lanka with my Sinhala music plus also introduced my English music to them. I put out my English album in India and also the South Asian region and Universal music is definitely spreading the music into countries such as Australia, UK, US, Germany and other European countries as well. But basically I feel like I'm gathering forces within Asia to take myself on to the global platform.
Q: In hindsight do you have any comments about the English Tracks. Do you feel "I could have done this track a little better" or may be "introduced more impromptu arrangements in some other tracks?
A: It's close to a year since I made this album and yes there are things I would have liked to change, but I feel this album in English for me was the first of its kind in Sri Lanka and for me it was a learning curve. For the next album I know exactly where I have to go. This album has put me in the place I want to be when it comes to my lyric writing, my producing, just having an edge when it comes to the English music I create.
Q: You are a successful central figure in the industry today, some day you will have to leave this behind you, then, what?
A: I don't think any musician can go on singing the same songs. I can't sing hip hop all my life neither can I sing pop until I'm forty or fifty whatever. I have laid the foundation right now. I am at the peak of my career and may be it will go on for another five to ten years, who knows. It really depends on how the market is. I am glad that in my youth I have laid the foundation for other musicians to get my training and to get my guidance in how to get into the music industry, which is why I came up with my music school, the Ashanthi School of Music.
Q: Do you think you have made the leap that every young singer dreams of?
A: I do think I have made that leap. I think that at the peak of my career, it's hard to manage a music school and my full time music career. But I manage both of them. I have absolutely no time for personal life because I feel that my time right now is for my career. Musicians cannot sustain themselves in the music industry by only perusing music. You have to have other avenues as well and this avenue is one I've always dreamed of. Just like Bathiya 'n Santhush, their digital music studio and company, I feel that music and singing and teaching singing is my passion and it's what I know to do really well. It comes from within me.
Teaching is something that comes to me naturally. So I feel it is a great way to woo the next generation. We've introduced a bunch of new ideas called the London Trinity College Pop/Rock Exams. When we were young we never had these opportunities of doing Pop Music singing examinations. It's a great way for the young to get into the industry if they want to take their singing to the next level.
Q: New challenges have arisen for you as a producer, composer, lyricist. Do you think it will hamper your singing career?
A: I don't think so. I think all these elements will make me a better artiste and a bigger artiste because I feel that being a writer you can relate to what you sing if you've written it yourself or if you've produced it yourself. So producing and composing, writing myself and singing the songs myself bring but the true emotion of the journey I've been on or somebody else's who I have seen. But it's always a story and I'm always telling a story so I feel that it comes from my heart.
Q: Did you draw influences from other singers and composers who are enjoying global popularity?
A: Definitely. The first record I listened to was Mariah Carey's 'Music Box'. I was then nine years old. I listened to the tracks over and over again. I practised all her tunes until I got them perfect, then added my style to it.
I would say that I've drawn a lot of influence from Mariah Carey as an artiste. As for contemporary artistes I really respect Pink, Beyonce, Will i Am, Jay Z, Miss Elliott. These artistes are those who challenge themselves, they don't stay within a box they keep doing something different.
Q: Are you branching out on other musical activities to spread your knowledge?
A: I have to say yes to that question. One of course is my Ashanthi School of Music. We've done a major concert and we are targeting for another one soon, and are currently gearing the students and looking forward to a great show for the Colombo market. I have to say thank you to Maryanne David who gave me the grounding to my music when it comes to the classical and operatic training I received when I was in school.
So I would say my roots are in classical, opera and Broadway and thanks to her I am a trained singer. I have taken my knowledge from what I have learnt and also put together genres I am specifically best at which are pop, r & b and hip hop.
I give my students an overall rounded knowledge of music from Broadway to pop, how both are different but also similar. I have a contemporary approach to my teaching. We don't teach mostly pop. Times are changing.
Even places like the Trinity College of London have changed their syllabus to pop/rock because the market demands something popular that young children would like to learn.
I have great respect for classical music, I listen to every genre of music. But I feel that in terms of pop music we never had anything like this before. So its great that children have the opportunity to follow pop music and face examinations, instead of only in classical music, this is a different path.
Q: So what's your advice to those youngsters who are aspiring to become famous but don't know how to get about it?
A: I always say follow your dreams no matter what. You may have many obstacles along the way. People may tell you a million things on why should not do this or that. But it is really in your mind. If you make up your mind and you set your goals high, anything is possible. The sky's the limit.