Three pregnant women dead :
Fifteen tested positive for A (H1N1) Influenza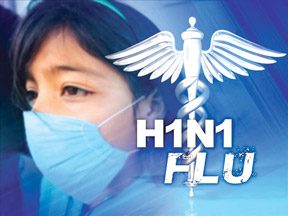 Fifteen pregnant mothers have been tested positive of the 461 samples sent for laboratory inspection. Three pregnant women have also been reported to have died of the viral disease, the latest case being reported at Moneragala on Friday, W.A.D Wanninayake, the Health Ministry spokesman told the Sunday Observer yesterday.
He warned that the disease could carry complications to four risk groups in particular: * Pregnant women * elderly persons over 60 years of age * those with chronic diseases such as diabetes, hypertension, cardiac problems and children under two years. This was due to their low immunity which could lead to pneumonia.
Typical symptoms of the onset of the disease include acute febrile respiratory illness such as high fever over 38 degrees centigrade and influenza like illness such as cough, severe headaches and breathing difficulties. "Anyone with these symptoms, especially if they fall into the four high risk groups, should see a western physician promptly at their nearest health facility," Wanninayake said.
Meanwhile, the Epidemiology Unit Chief Dr. Paba Palihawardana has sent circulars to all regional hospitals to be on alert and ready for a further outbreak of the disease. All doctors are being trained in patient care, and as an additional precaution to vaccinate all health workers against the disease.
Steps are also being taken to vaccinate pregnant mothers visiting Maternal and Child Health clinics.
The Health Ministry has warned pregnant women to stay away from crowds and wash their hands with soap and water using a hand sanitiser if possible, when they return home from crowded places.
The public has also been asked to cover their faces with a clean handkerchief when they cough or sneeze as the disease is transmitted through mucous or spit during spasms of coughing or sneezing.