Demand for electricity increases 8 percent annually:
Earlier regimes to blame for country's power crisis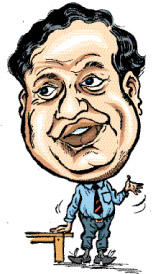 Environment and Renewable Energy Minister Susil Premajayantha said the country's power sector is facing the present crisis due to the wrong decisions taken by the earlier policymakers and previous regimes.
The Upper Kotmale, Norochcholai or any other power generation projects were not commissioned from 1995 - 2007. No power generation plan was implemented for nearly 10 years. It was only after President Mahinda Rajapaksa took office in 2005 that he took a firm decision to go ahead with the power generation plan of the Ceylon Electricity Board (CEB), Minister Premajayantha told the Sunday Observer.
The Minister said it was the responsibility of the previous regimes to attend to those matters. On the President's instructions, Norochcholai was set up to generate 300MW. There will be an additional 300MW within the next 18 months.
The Government also commissioned the Kerawalapitiya and Upper Kotmale projects with a capacity of 300MW and 150 MW. After the President took office, 750MW had been added to the national grid.
He said the demand for electricity increased eight percent annually. With the end of terrorism the demand increased sharply. At present many high-rise commercial buildings are being constructed in Colombo and its suburbs. The demand for electricity in the Colombo city alone will increase further in the next two years.
These are the results of lasting peace and we have to meet that demand, he said.
Minister Premajayantha said at present the average cost per unit of electricity is Rs.23. But the CEB sells the first 30 units to consumers at Rs.3.60 per unit, the next 30 units at Rs.6.40 each and 90 units at Rs.7.90 per unit. The maximum unit price is around Rs.15. Hence it is evident how much the CEB loses on a unit as a result of this subsidy. On the other hand it affects the entire economy as the CEB is not in a position to pay its dues to the Ceylon Petroleum Corporation (CPC). When the CPC obtains loans and opens Letters of Credit (LCs), it has to pay interest.
The CPC does not receive sufficient funds to maintain its cash flow. This is the main reason for the financial crisis faced by the CEB and CPC.