T.M. Jayaratne's maiden solo concert on Saturday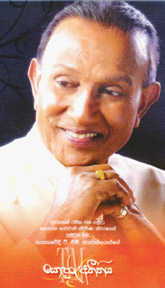 T.M. Jayaratne, the maestro of the violin, will perform live at the solo concert Sonduru Atheethaya on Saturday at 6.30 pm at the Musaeus College auditorium.
Jayaratne's musical journey started in 1969 and completes 44 years this year. This is the first time that he will have a solo performance.
Born on April 13, 1944 in Dodangoda, he grew up to be a popular Sri Lankan singer who received the Presidential Award in 1978, 1979, 1980 and 1987 and won the Best Male Singer award at the Raigam Tele Award Festival.
"Playing the violin is something harmonious. It is a delicate and sensitive instrument. The reason this event has taken so long to become a reality, is frankly because I was not prepared and matured enough. I prolonged it", said Jayaratne, speaking on the event.
"But now I am ready to do my concert," he said.
The concert is sponsored by two fans of Jayaratne, Sathyendra Wijayapura and Dilanie Wijayapura and the event's official television media sponsor is ITN.
At the concert, 25 songs will be performed by Jayaratne.