Village damselís cries echo in the paddy field
The agony and suffering of poverty is hard to explain. What poverty really means, its trauma and humiliation, were something that Nisansala knew only too well.
Nisansala was a dusky village damsel of Dehiattakandiya. Being a feeble-minded and timid lass, she somehow managed to accomplish her tough household chores.
Nisansala never in her wildest dreams thought she would be a victim of a gruesome crime in the very outskirts of her paddy-field in the village.
The 17-year-old Weerasinghe Mudiyanselage Nishani Nisansala of Bakmee-ella Dehiattakandiya had been residing with her mother and brother. After her father died a few years ago, her mother Karunawathi had to shoulder her children's livelihood by engaging in many types of employment. She could not spend even a day with her children in their house as a result of their poverty. Nisansala had to leave her house daily to keep the wolf from the door. Her son and daughter could not indulge in any livelihood to earn money and support the family as they were physically weak.
Needs
Karunawathi knew that only she could foster her children and their future. Nisansala tried her best to gain good marks in her studies despite the difficulties she underwent.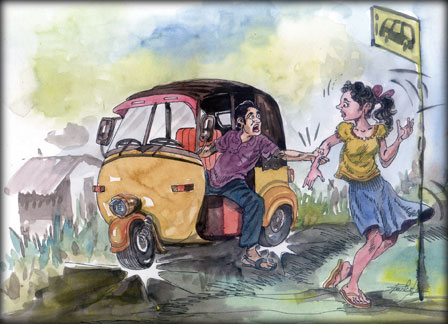 But all her efforts were in vain, and she could not study beyond Grade Five. Her brother Sunil could not study too. He was confined to the house because he was dumb.
In this backdrop, her elder sister Gnanawathi had to help her family but she was unable to attend to the needs of the family since she too did not have proper employment.
After their fatherís death the family had to face many difficulties.
On many occasions Gnanawathi reminiscing her past, present and future, cried, unable to control her emotions. She always pondered on how to come out of this pathetic situation and thought of solutions to overcome it and find solace for the family.
Not having anywhere to turn to, she married a labourer and settled down in her husbandís house in the Siripura village.
A few days later Nisansala woke up early morning before her mother and brother. She paid her attention to the work of their house.
She knew that her mother Karunawathi had to leave for work in the house of an army female officer, to look after her child, and she would return home in the evening.
Karunawathi had then told Nisansala that she would not be returning home because she had some unavoidable matters to attend to in the army officerís house.
Around 5 oíclock in the evening, Nisansala sat on her bed for a moment because of her weariness after the household chores on that humid day.
She much loved her sister and yearned to visit her sister's house in Siripura.
Her brother usually did not like to leave the house because of his muteness.With the blessings of her brother Nisansala left home to visit her sister and she waited at the junction for a bus. The junction was about 250 metres away from her residence.
Disappointed
Nisansala spent several hours waiting for the bus, killing time at the junction. However, on that fateful day no bus arrived.
Bitterly disappointed, Nisansala had no option but to return home. But as soon as she turned to go home she had a shock; a trishaw was racing towards her. Before she could run away the trishaw pulled up and a youth dragged her into it.
Nisansala was dumbstruck at the moment.
However, she recovered within a few moments on the way. But the youth then increased the speed of the trishaw on seeing her gaining consciousness. The youth then turned his trishaw towards the direction of a paddy-field and he drove towards an abandoned shack.
Nisansala had learned only to play with her friends in the paddy field. She had seen farmers who were tilling, sowing and reaping the harvest in the field. Although it was normal to see farmers lingering in the field after the dayís work at that time, on this fateful day the field was deserted.
She screamed for help hoping someoneís attention could be drawn to avert the nightmare she was going through, but it was a vain attempt as there was nobody to hear her shouts for help.
Nisansala fearing for her life before the youth, looked at him in a pleading way.
As dusk fell, with the clouds gathering gradually, enveloping the fields and the environs in darkness, the youth was overcome by sexual desire and he eyed her with lustful eyes.
Nisansala could not get out of his grasp and had to succumb to the carnal desires of the youth.
Night
Later on the ill-fated day, a woman of a house suddenly woke from her sleep by hearing the sound of somebody knocking at her door. She opened the door and she could not believe her eyes at what she saw. A damsel was in front of her at the dead of night. Although she inquired from her what had happened to her, she was not in a position to answer.
The woman comprehended the situation of the damsel.
She invited Nisansala to come and sit in her house.
The woman thought about the next step she would have to take. She rushed to the nearby temple with another woman because they knew that a police constable was deployed by the Dehiattakandiya police for the safety of its incumbent.
The constable informed the police about the complaint lodged by the women.The Crime OIC SI Bandara and WSI Nanda Perera of the Children and Womenís Bureau of Dehiattakandiya police had then taken Nisansala to the police station on the instructions of OIC Jayashantha de Silva of Dehiattakandiya police.
Police said they questioned Nisansala of what happened to her in the cottage of the paddy field.
She had earlier refrained from answering the police because she was in a state of shock at the time. Later Nisansala came to her senses and began answering the police.
The police revealed what had happened after the description by Nisansala. She had been allegedly raped by the youth several times in the cottage.
The police figured out who the culprit was with the description given by Nisansala, and had taken a 22-year-old suspect into custody at Madagama in Dehiattakandiya.
A police team led by OIC Jayashantha de Silva of Dehiattakandiya police is conducting further inquiries.