Amalawathi sweeps her cares away
After nearly half a century of sweeping the roads in Colombo, 70-year-old Amalawathi is not ready to hang up her ekel broom and take that long vacation she deserves.
"Who will keep the home fires burning if I stay home, doing nothing?" she asks me when I stop to talk to her as she sweeps up dead leaves from the pavement at Darley Road, into a dust pan. Looking at her worn hands, her legs knotted with varicose veins, and a body darkened by long hours of exposure to the merciless sun, it is obvious that this septuagenarian has spent most of her life on the pavements. Left widowed at the age of twenty-five after her alcoholic husband was run over by a bus, Amalawathi tells me she was forced to find a job as she was the sole breadwinner for her three young children.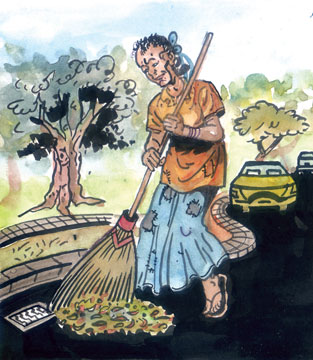 "I needed the money to feed them, buy them clothes and school requirements. The only job I could get was as a road sweeper, when the Colombo Municipality hired me as a casual labourer. And even though I am now too old to do this work, I need to continue working for the sake of my grandchildren".
Although her son and daughters are now grown-up, she says her three grandchildren depend on her for anything extra which their parents can't afford to give them... She pulls out a photograph of three little children in clean white school uniforms and slippers and tells me with pride: "They are lovely children aren't they? Take a look at their uniforms which I bought for them last month, after they complained they had only one set of uniforms as their parents couldn't afford to buy them a second set...This is why I have to continue to work".
To save up every cent she earns from her small daily wage, Amalawathi confesses she gets through the day by chewing betel when she's hungry.
Lunch
"A lunch costs over a hundred rupees. Even a slice of bread would cost between 50 to 75 rupees with some curry. So I made do with a betel chew and a cup of plain tea." When I warn her she could end up with oral cancer, she shrugs and says, "Most of us road sweepers chew betel all day when we work because we simply cannot afford to buy a proper meal. If one of us gets a free packet of lunch from a passerby, we share it".
Although Amalawathi no longer works for the Municipality, since cleaning of the city has now been privatised, she says life continues unchanged. "As casual workers, we are not entitled to ETF and EPF allowances. Nor do we get a meal allowance. The company that hired us only gave me this 'T' shirt (she points to the grubby faded orange 'T' shirt she is wearing), and nothing else. No slippers, no umbrella and not even a cap."
Like the others, she works in shifts and in different locations within the city. "Our working hours are not that long. But we have to complete the work given us before we leave. That means leaving the pavements and side walks as clean as possible without even a leaf allowed to by left lying on the ground", she says. Which is why she confesses, 'every time a pedestrian throws a piece of paper or a used lunch sheet on the pavement, I get so angry because it means I have to sweep that part of the pavement all over again.!" Sweeping the city's roads and pavements for nearly 50 years, I wondered what changes she had witnessed in the past few years in the city itself. Was it cleaner than when she started out? "When I began my work this was a city of gardens and flower trees.
Then it became a garbage city where the roads were lined with piles of rubbish.Today, thanks to the present city development program, I have seen a transformation.
The roads are much attractive after the pavements have been newly paved. And certain parts of the city now resemble the garden city it once was. Let's hope the public will maintain this image of the city".
Food
Pausing to shout angrily at a motorist who threw a bag of half eaten take-away food on the pavement she had just swept, she tells me, "It's because of people like them that our work has doubled.
All road polluters in this country should be fined like they do in other countries. We need some organisation to undertake the task of educating the public to be more environmentally friendly and considerate. This can make our lives as road sweepers much easier as well."
Picking up her ekel broom and her dust pan to collect the contents that had spilled from the bag thrown on her newly swept pavement, she turns back with a request, "Next time you see a person doing this, take a picture and publish it in your papers. That will prevent them from repeating this offence".