Turn turtle to escape alligator's jaws of death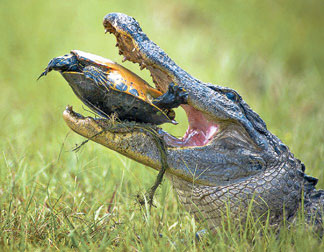 It was a thrilling experience for American wildlife photographer Patrick Castleberry when he captured in film a six-foot long fierce-looking alligator trying his best to take a turtle for his next meal.
Castleberry was in the Okefenofee swamp in Gerrgia studying herons when he came across this contest. When this alligator gripped the freshwater Eastern River Cooter between its jaws, it looked like there was only going to be one winner. But after 15 minutes of trying and trying, the beast realised it was far too tough a nut to crack.
'It was definitely turtle one, alligator nil,' said Mr Castleberry.
'I was taking shots of a great heron and then I saw out the corner of my eye what looked like a ball bouncing beside the water.
'I quickly realised what it was and thought the alligator was going to win in the end.
'When he finally gave up, I walked over to the turtle expecting it to be dead and was amazed to find it alive and on its back. I flipped it over and it scrambled into the water.'
Fifty-one-year-old Castleberry spends hours on end dressed in camouflage gear to get up close and personal with nature, capturing it at its wildest... and bravest.
---
Sharing room with 300 weird creatures
It was a frightening experience to 52-year old Nigel Andrews when he found two snakes mating in his toilet.
'I was scared stiff when I went to the toilet, sat down and had two snakes looking up at me,' he said.
Although he got a shock of his life at that moment he had already accepted the fact that he had to live in this kind of weird surroundings where you find all sorts of crawling creatures everywhere in your own house. But for his son Liam this is a very normal life as he is sleeping next to his collection of creepie-crawlies, which includes 12 tarantulas, eight snakes and five deadly scorpions.
He also keeps an array of lizards, frogs and birds at the family home in Desborough, Northamptonshire.Liam also watches TV with his snakes wrapped around his neck and even takes them to the shops.
'I much prefer animals to humans,' said Liam.
'I have around 60 reptiles and other exotics that sleep in my bedroom with me - luckily so far none of them have escaped.
'I don't think many girls would like the spiders in my bedroom so I don't bring many girls home.' His parents accepting his wierd passion says he loves his animals and despite our reservations, me and his mum support him all the way.
---
Retires after doing nothing for 14 years
Although getting paid without doing anything is a common story in Sri Lanka it becomes a horrifying news when coming from a country like Germany.
According to German newspapers an unnamed German public official has retired with an email telling his 500 co-workers he didn't do a scrap of work in 14 years.
The 65-year-old informed his colleagues that he earned £600,000 ($917,000) while working with the civil service "without lifting a finger".
The well-rested man from the German state of North Rhine-Westphalia did not think the email would leave the office.
When confronted by his local newspaper he declined to comment saying the email "was not intended for public view".
The man, who worked as a surveyor since 1974 said the situation was the council's fault because he did not have enough work to do and could leave it all to his colleagues.This enraged the mayor of the town who has since made the 65-year-old's former job redundant.
"The employee had not once complained about not having enough to do during his 38 years of employment," said the Mayor of Minden, Volker Fleige.
"This kind of behaviour is very worrying," he said.