'IT can help tea industry increase market share'
Kingslake, in partnership with Infor USA hosted The Kingslake iTea Forum recently in Colombo. Over 75 tea professionals, including tea exporters and brokers, participated.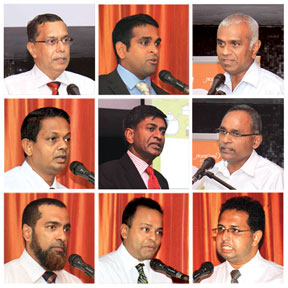 Tea industry stalwarts made relevant and thought-provoking presentations on various topics.
These encompassed the current trends and challenges in the industry, and focused on how IT and ERP can, and does, help organisations improve their productivity, agility and efficiency, thereby boosting their overall growth.
Chairman, Kingslake, Dr. S. Dharmavasan said, "With the shift in IT that we are witnessing where everything is progressing towards mobile and portable formats and Cloud based infrastructure. He said this can provide innumerable opportunities to the tea industry. By taking advantage of this, businesses can progress to a new level.
Marketing Consultant, Heritage Teas, Mohan Mendis said technology can be used to gain market share in an environment where beverages are battling for quenching the consumer's palate and thirst.
He said modern technology was being applied to create new products, based on shifts in consumer behavior and thus it was possible to increase market share.
Director, Finlays Colombo, Romesh Moraes, spoke on Value Addition. He emphasised the fact that value equals happiness, and that happiness equals meeting emotional and functional needs. ERP creates great value and wellness to a company by allowing them to zoom into facts at any point and see where they are and thereby strategise their future moves, he said.
He thanked the IT specialists at Kingslake and Finlays for making this possible for the Finlays Board and shareholders.
Project Manager, Qualitea Ceylon, Ajith Abeyawardena spoke about selecting an ERP System, including setting up a team, preparation and evaluation. He ended with a quote from Charles Darwin: "It is not the strongest of the species that survives nor the most intelligent, but the one that is the most responsive to change."
Director, Ranfer Group, Niren Ranasinghe presented 'Change or Transformation?'. He said in the implementation of an ERP system, change management can provide a systematic and effective approach to deal with the numerous changes that a company and its individuals encounter.
General Manager, Basilur Tea, Sumith Jayawickrama said his company uses Kingslake's Tea solution based on Infor Syteline, to optimise production and manage market dynamics of smaller order sizes and greater pack sizes to cater to the modern day tea consumers' varying needs.
Principal Business Consultant at Kingslake, M. A. Sheriffdeen introduced the Kingslake Tea System, illustrating how it can help those at every level of the tea process, and showed the audience the various interfaces of their different solutions.
CEO Kingslake, Duleep Fernando said, "Having partnered with many clients in the tea industry for the past 20 years, providing them business solutions based on IT, we think that the industry would benefit if they got together to share their experiences with each other, learning new ways on how IT can help the industry become a more robust, profitable and a greater worldwide force, thereby increasing market share and earnings benefiting Sri Lanka."
Ming.le, Infor's new collaboration platform that's integrated to the SyteLine ERP, was demonstrated at the event.
Kingslake has been providing software solutions to the tea industry since its inception in 1994.