Sri Lanka Economic Summit: Deliberation on critical issues
The Sri Lanka Economic Summit 2013, the flagship event of the Ceylon Chamber of Commerce will be held on July 9, 10 and 11 at the Cinnamon Grand on the theme 'Re-balancing the Economy'.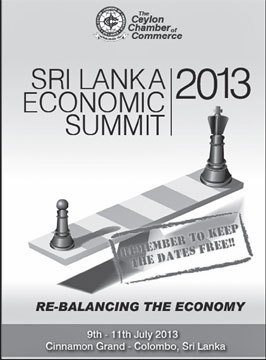 The Sri Lanka Economic Summit brings together the best of Corporate Sri Lanka and world renowned academics, government officials and stakeholders to one platform to discuss issues related to the economy and to draw a road map for the future.
This year's event will comprise sessions titled 'Managing the Fiscal Deficit, Export Strategy: Time to re-think and re-focus', 'Enhancing Competitiveness through higher Productivity', 'Connecting to Untapped Resources', 'Demography and Skills Development', 'Powering the Nation for the Future' and 'Challenges to Re-balancing the Economy'.
World renowned speakers will share their insights as speakers and panelists at the seven sessions of the summit.
This year's theme has been selected after much deliberation and the Ceylon Chamber believes that it is important to review re-balancing of the Sri Lankan Economy at the Economic Summit 2013.
Sri Lanka advanced to the lower middle income country status in January 2010. With the rise in income levels and acceleration of development in the post-terrorism era the re-balancing of the economy has become of greater significance. Although it has been taking place on a need-basis and by policy shift, such as, focus on infrastructure development, North and the East reconstruction, development of the less developed regions, priority to agriculture and food security, the Sri Lanka Economic Summit for 2013 will deliberate on some of the critical areas that should receive more attention from policy makers.
The Sri Lanka Economic Summit 2013 is the ultimate platform to gain a comprehensive understanding of the country's economy, the investment climate and the diverse opportunities available for investors and businessmen.