SLT completes largest CCTV surveillance system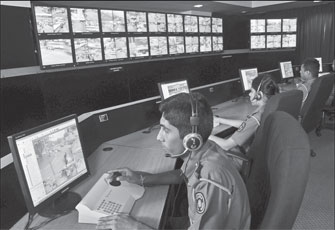 Sri Lanka Telecom (SLT) has connected the country's largest Closed Circuit Television (CCTV) surveillance system through its advanced fibre optic based Metro Ethernet Network (MEN) enabling the Police Department to carry out real-time video monitoring, control cameras remotely, record, store and playback.
The CCTV camera system helps the police to improving road safety, track down crimes and offences that are committed in the city.
"The company's Internet Protocol based (IP/MPLS) communication backbone network with fibre ring architecture was upgraded to 1 Gbps Ethernet to achieve high speed data/video transfer and to improve reliability and security for mission critical data," a spokesman for the company said. Thirty street junctions have been installed with multiple surveillance cameras mounted on one or more camera posts.
These are linked to Police Headquarters through the Metro Ethernet Network.
The CCTV cameras at main intersections in Colombo and the suburbs continuously transmit images which can be viewed at the control room on a panel of LCD screens. The system records and stores images which makes it useful for police investigations and can be used as evidence in Courts.
This CCTV camera system will be used for traffic management in Colombo that sees a daily average of over 200,000 vehicles entering the city.