Weekend crowds targeted :
Airconditioned trains to Kandy from tomorrow
The Railway Department will tomorrow launch its first train service with airconditioned compartments for passengers travelling between Kandy and Colombo, after its first run from Kandy to Colombo, General Manager of the Railways B.A.P. Ariyaratne told the Sunday Observer.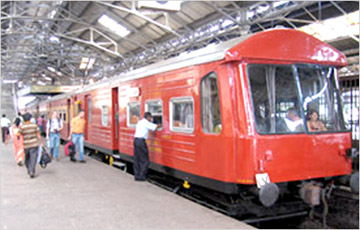 "We are launching this airconditioned train service targeting the crowds visiting Kandy during the weekends", he said.
After the train service begins tomorrow from Kandy to Colombo, it will run between Colombo and Kandy from Friday evening to Monday morning and passengers who travel on this train should reserve their seats in advance.
According to the schedule, the train will start its run from Colombo Fort on Friday, Saturday and Sunday at 5.50 p.m. and leave Kandy at 5.50 a.m. on Saturday, Sunday and Monday.
"At present we have scheduled this train only on weekends and it will be extended to other days depending on the demand for the service", Ariyaratne said.
He said the Railway Department is making arrangements for passengers to reserve their seats even one month ahead, deviating from the current reservation process that enables passengers to reserve seats only two weeks in advance.
He said the train service will be more comfortable for passengers to travel between Colombo and Kandy and the fee will be Rs.500 per one way journey as it is first class. Around 220 seats are available.
He said the Department is launching this new train service apart from the normal intercity train between Colombo and Kandy.
"This will also be an intercity train service as it will stop only at Peradeniya, Ragama and Gampaha", he said.
"We expect this service to be a boon for the tourism industry in the country and it will also be a tourist attraction" he said.