A friend betrays friendship for love
It was a case of a friend having immense trust in another.
Madushika and Thushari were two friends who never hid any secret from each other. They lived in the same boarding at Andankulama in Trincomalee.
R.M. Madushika Priysdarshani, 28, was a resident of Nuwara Eliya. She studied amidst hardships to be an English teacher. Eventually she was appointed as a teacher at a school in Trincomalee. As she was not a resident of Trincomalee she decided to stay at Vije Nivasa in Andankulama in Trincomaalee.
Thirty-six-year-old H.G.M.K. Thushari of Mahawela, Matale was also a teacher. She too had found accommodation at the same house. She was a teacher at a school nearby. Soon the two of them became close friends. The boarding mistress also took a liking to the two of them.
The boarding house was run by Indra Vijeheva, a retired teacher. She also advised them to get married. Madushika decided to return home to spend her vacation. While travelling she gave serious thought to what her boarding mistress had told her about marriage.
But she was sure that her parents were not in a position to give her in marriage. Subsequently, she met a youth in the bus and struck up a friendship with him.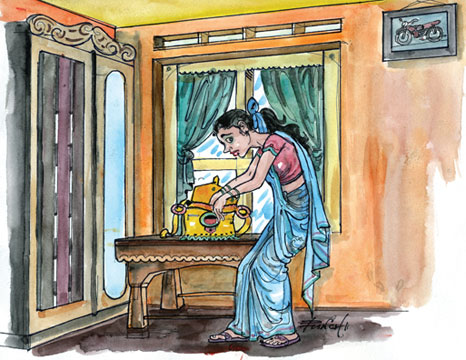 The 18-year-old youth, W.M. Dillshan Weerasinghe lived in Kundasale, Kandy. He came from a poor family and was a student in the Advanced Level class at Menikhinna Maha Vidyalaya. Dilshan and Madushika built up a strong friendship. The friendship gradually turned into a love affair.
Dillshan came to know that Madushika was a girl from a rich family. He was determined to marry her. Dilshan had a craze for a motorcycle.
He knew that his parents could not afford to buy him a motorcycle. Then he asked Madushika to buy a motorcycle. Madushika promised that she would find the money to fulfil his dream.
However, she knew that her salary was not enough to buy him a motorcycle. Madushika knew that Thushari had enough of money in her savings account. Thushari had gone to the bank on several occasions with Madushika to deposit money. Madushika then decided to take some money from Thushar's savings account.
Madushika stealthily crept into the room while Thushari was away. She wanted to steal the savings book, but for her bad luck she could not find it. However, after some time she managed to find the passbook.
Madushika rushed to the bank with the passbook and Thushari's identity card. She forgot about her employment and friendship with Thushari. Her only thought was to satisfy Dilshan.
Madushika went to the bank and signed a withdrawal ship forging Thushari's signature. She withdrew Rs. 350,000 from the account. Before going to the bank she had practised to sign Thushari's signature.
Madushika then went to another bank and deposited the money in Dilshan's account. Later Dilshan withdrew the money from the account and bought a brand new motorcycle.
Thushani wanted to withdraw some money from her account and had gone to the bank.
When she presented the savings book to the cashier, she was told that there was no money in her account.
Thushari was surprised to find that all the money had been withdrawn. With the CCTV camera, the bank showed Madushika had withdrawn the money.
Thushari clearly identified her friend Madushika, who was withdrawing the money. Then she made a complaint to the Trincomalee Harbour Police.
OIC of the Trincomalee Harbour Police, CI Upali Narampanawa and OIC Crime Dinesh Anjula and a police team arrested the suspects on the instructions of Senior DIG Pujitha Jayasundara, DIG L.G. Kularatne and SP Bandula Wijewardena of the Trincomalee Eastern Province Police Division.