Creating awareness among rural community:
'Water issues in villages getting worse'
Sangeetha Anthony, who is in her twenties, wants her friends and villagers in Bandarawela to conserve water.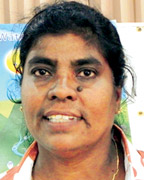 Anoma Rajapaksa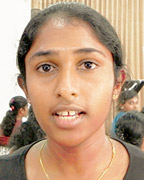 Sangeetha Anthony
In the aftermath of the infamous Weliweriya incident, where people are clamouring for clean water, a group of young women from several districts, took part in a program organised to educate people to conserve water and to make them aware of their rights regarding water.
"Water issues are getting worse in the villages", Sangeetha said. They had to struggle for clean, drinking water as most of the streams were polluted, she said.
The one-day workshop on 'Capacity building for young women for ensuring community water security' was organised by the Sri Lanka Water Partnership, Netwater and YWCA.
Sangeetha representing a youth community-based organisation attached to the YWCA said she would educate members of the organisation about conserving water in her village.
" Most importantly, I will educate them about their rights to conserve water and also to react against those who pollute the water", she said.
According to Sangeetha, there are small streams which overflow. " Some people are not concerned about saving this water as the water just continues to flow and is wasted and not put to proper use. I now feel how useful it will be if we can build small tanks downstream and use the water when the stream runs dry", she said.
Armed with the knowledge she gained from the workshop which taught them about the quality of water, how polluted water harms health, the causes of climate change, their responsibilities to contribute less to greenhouse gases that lead to climate change, their rights as women to conserve water and the authorities they can inform in the event water is polluted. Sangeetha thinks that youth have a greater responsibility to conserve water.
Kusum Athukorala, Chair of NetWater and the Sri Lanka Water Partnership, said that climate change adaptation for communities would be crucial in their struggle to achieve water security in a fast changing environment.
" Sri Lanka Water Partnership and its partners have promoted an evidence-based advocacy for community groups especially women , youth and children.
This activity at the YWCA brings together young women representatives from 24 groups who will transmit their knowledge to their communities", Athukorala, who won the 'Women in Water Award for Leadership Development' in 2012 said.
She said a follow-up action based on their perceived needs is planned through the host organisation. "The next in this series will be held in Jaffna" Athukorala said.
Prof. Champa Navarathne, of the University of Ruhuna speaking about climate change and issues in conserving water made the young women aware of the harmful effects of greenhouse gases and their contribution to reduce emission.
" As mothers, sisters and daughters you have a great responsibility to educate your family to preserve the environment as well as clean water, which is gradually depleting due to pollution", she said.
Priyani Gunatilake of the Central Environmental Authority spoke about pollution and the causes for it.
Ramya Weerasinghe of the National Water Supply and Drainage Board spoke about the importance of catmint conservation.
" The best method to have clean and safe water for drinking is by boiling water", she said.
Living in a village known as Kolapalelikanda, three km off the Kurunegala Town, Shaymalee Martha, took part in the workshop to get more information why wells in her area, which were full of water all the year round were now running dry.
" We never felt a water scarcity in our village but since the last drought we have less water in wells. Water is pumped to the town from the main lake in the area but there is less water in our wells now", she said.
Kolapalelikanda, where over 200 families live on well water still lack pipeborne water coverage. "We have to go to the temple or the church to have baths and use bottled water for drinking", she lamented.
However, Shamalee said she had gathered much information at the workshop and intends to discuss them in community-based organisations in the village where she is a member.
"I think the best way is to get youth in those community-based organisations to take the message in conserving water. As womenwe learnt about our rights and responsibilities", she said.
Sharmini Tennakoon, President of the Panadura YWCA said she would reach out to the community and create awareness on conserving water through women empowerment.
Anoma Rajapaksa who came from Rambukkana, also represented a family who faced difficulties in finding clean drinking water.
"As a mother, walking a few miles to get water for drinking is a daily hassle:, she said adding that she hoped that women in villages took part in such workshops to improve their knowledge and awareness of their rights.
She said she was happy she was now aware where to complain about those who pollute water.