Commercial hub policies provide framework:
Sri Lanka, a one-stop shop for tea
The commercial hub policies adopted by the Government recently will help Sri Lanka to become a one-stop shop for tea with the tag 'Tea Nation of the World', said Tea Exporters Association (TEA), Chairman Rohan Fernando.
The Finance Act - Commercial Hub Regulation No. 1 of 20 gazetted by the Government in July 2013 gives the policy framework for commercial hub operations.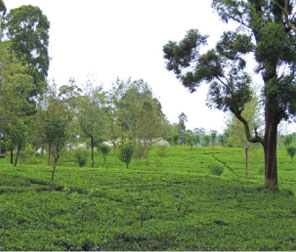 This allows Sri Lankan industries to import products, make value additions here and re-export it.
Industrialists of the two main export commodities of the country, apparel and tea are positive regarding the new policies.
Fernando said that tea exporters had been calling for these policies for long years.
The Sri Lanka tea industry will be enhanced through these policies. However, some sectors expressed fear and argued that that the move would damage the international brand image of Ceylon Tea. While we are in a dilemma, new trends have emerged in the global tea trade and now several countries have emerged as tea trading hubs.
Fernando said that although the policies have been gazetted, the parametres of the policies, implementation plan and the time frame has not been given. "We are positive of the move and that we presented this blueprint to the Government some time ago.
This will allow us to import, add value and re-export tea and it will create additional demand and many benefits," he said.
He said blending and re-export is already taking place and with the new policy in place it would develop as an industry. He said it would not affect the Ceylon Tea brand image and the products are exported as Pure Ceylon Tea and Blended Ceylon Tea brands separately. Fernando, also exports tea under the brand Heladiv Tea.
Former TEA Chairman and Chairman of Ceylon Tea Marketing Ltd, Jayantha Keragala said that the policies were good but it was too late now. We urged the Government to introduce these policies in 2008 recognising the developments in the global tea trade.
Several countries such as Dubai, Russia, Oman and Vietnam attempted to consolidate the global tea trade and as some of them are well established now it is difficult to change. We needed facilities and tax concessions for importing, blending and re-export. If we had introduced the policies earlier our infrastructure and trade channels would have been very strong today, Keragala said.
He said that Sri Lanka can produce a maximum of 350 million kg of tea per year and the plantation industry has faced many issues such as the high cost of production, labour shortage, limitation of land and issues in replanting and as a result Sri Lanka cannot expand production further. Yet, we have a niche market and we can move forward, he said.
Tea Research Institute (TRI) Director Dr. Sarath B. Abeysinghe said from a commercial point of view this decision is important but as a tea producer there are reservations among industry stakeholders. Tea exporters are optimistic but tea producers fear that the brand image of Ceylon Tea will be tarnished.
This can happen if the blended teas are exported under the Pure Ceylon Tea brand.
Therefore, what is needed is a proper transparent mechanism that ensures that the Ceylon Tea brand is intact. Appropriate policies to make Sri Lanka the global tea hub was a long-felt need and there were discussions regarding the matter in the past.
But we failed and today Dubai has taken over the position and most multi-national buyers now operate from Dubai, he said.