Bank consolidation beneficial - Fitch
Sri Lanka's plan to consolidate banks would boost economic development and raise systemic stability in the long-term, a spokesman for Fitch Ratings, the global rating agency said.
The Central Bank has initiated action on consolidation in the financial sector as proposed in the 2014 Budget by President Mahinda Rajapaksa and presented in the Bank's Road Map for 2014.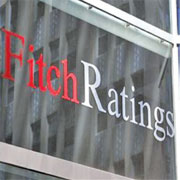 Accordingly, the Central Bank has prepared a Master Plan on the Consolidation of the Financial Sector to create a stable financial sector with strong and dynamic financial institutions to steer the country towards the economic goals set for 2016 and beyond.
If effect, the 'Master Plan for the Consolidation of the Financial Sector' should improve the credit profile of financial institutions, strengthen franchise, and reduce supervisory burden, the rating agency said in a statement.
According to Fitch Ratings, the top five banks already account for two-thirds of system assets, and the system could become more concentrated.
The consolidation process aims at building at least five major banks with an asset base of more than Rs. 1 trillion (US$ 7.7 billion) within a 'reasonable' period.
Only one bank has met this threshold at end-September 2013.
The master plan also sets a minimum asset size of Rs.100 billion for the remaining banks which means further consolidation is needed as seven domestic banks are below that limit.
The government hopes that these institutions will eventually set up a regional presence and improve overall access to funds.
According to Fitch, the biggest impact in the near term will be felt across the non-bank financial institutions (NBFI) sector, which accounts for just seven percent of financial system assets. The Central Bank wants to reduce the number of NBFIs from 58 to 20.
"The reduced number of institutions would also improve regulatory oversight," the Fitch media release said.