Winner:
The national flag of Sri Lanka
Every country has a national flag. It is the identity of a country and it symbolises the people in the country.
We, as Sri Lankans, always respect our national flag. It is also called the Lion flag. We hoist the national flag when celebrating various important occasions in the country.The yellow coloured lion holding a sword with its right paw shows the sovereignty and nobleness of the nation and the lion signifies heroism and strength. The orange and green strips on the left represent Muslims and Tamils in the country.
The Bo leaves in the four corners signify the four Buddhist concepts such as Metta, Muditha, Karuna and Upeksha.
---
Winner: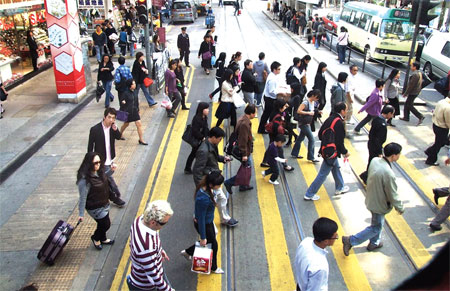 Walking on a busy street
I am afraid I cannot look around, first I have to look ahead of me, and not bounce into other people and knock them down. I have got to keep walking only on the pavement but watch out for the loose tiles that I might trip against and fall. If I like to see something in a shop window, I have to stand on a side and gaze at it and not stand and obstruct the other people's way.
When crossing the road you must always do so at the Zebra crossing. You must always be patient and wait for the traffic that is moving fast and then look to the right, left and right again before crossing the road.
You must not answer the mobile phone or slow down to talk with friends when crossing the road. We must not delay the drivers going their way. If we all follow the road rules we will find a smooth flow of the people and traffic and the policemen on duty will be so thankful to us for being very thoughtful.
---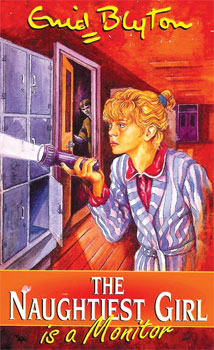 Winner:
My leisure time activity
My favourite leisure time activity is reading books which is very interesting. We can learn many things by reading. I like to read ancient books written about kings and queens. My favourite queen is Vihara Maha Devi. I like her because she is very brave and wise.
My favourite writer is Enid Blyton. The Naughtiest girl is a Monitor is the best book I have read. I like to read books on science and do experiments accordingly.
Reading books improves your knowledge and it is very useful for our future generation.
---
Winner:
Little cottage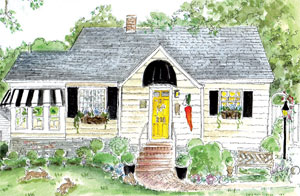 Little cottage in the wood,
Little man stood at the window,
He saw a rabbit running
By knocking at the door.
Help me! help me! help me, he cried,
Here's the huntsman shoots him dead,
Come little rabbit come with me,
Happy we shall be.
---
Winner:
The importance of Dhamma education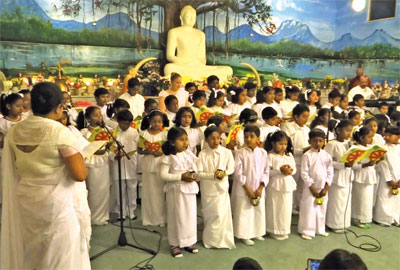 There are two ways of giving Dhamma education in our country. One is to teach the religion at Sunday schools. The second is to teach it in schools. The first system is very useful and effective than the second, because the time allocated for this is comparatively higher than the second one.
It is obvious that students learn many subjects in schools but mainly good customs and values are taught at Sunday schools. When children learn in a religious atmosphere the serenity of such places makes them disciplined. Children who receive Dhamma school education can shoulder responsibilities and follow the Five Precepts.
They will set an example to others. They will have good habits and humane qualities. Dhamma school education will always direct you on the correct path in society and it will certainly lay the foundation to build a righteous society.
Therefore, all the Buddhist children must go to Sunday schools and learn the religion well.
---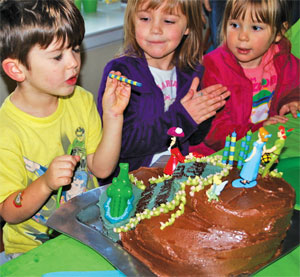 My birthday party
I am Naja Sifak Ahamed. My birthday falls on January 25. I was very happy on my last birthday. My mother prepared tasty food items for me. I enjoyed them with my little brother and sister.
In the evening my friends and classmates wished me. They presented me toys. I served them cake, biscuits, fruit and ice cream. I took some photographs with my family and my friends on that day. We had fine music and games. At 6.30 p.m. they all left wishing me once again, many happy returns of the day.
---
A Korean story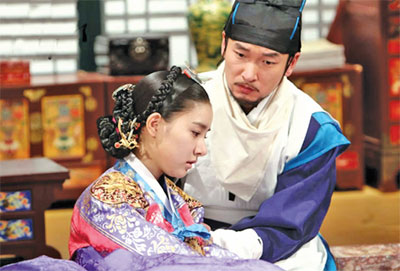 At 6.30 p.m. there is a Korean story on television. I watch it every day. It is Isiwara Vedaduru. We, can learn how to be a Vedaduru (medical practitioner) by watching it.
In this story there is a straightforward man. He is called Pake Qvan Yo.
He helps people having breathing problems. There are two girls called Chioyo Qvan Yo and Chioyo.
They were born on the same day. Chioyo is a nurse and Qvan Yo is a horse doctor. Chioyo used to take medicinal soup for poor people.
They help the matron and the chief doctor. When the king of the country fainted Chiyo and Qvan Yo get together and work. He thanked them for their great service. Chioyo has another friend called Sonha. They help people who are ill.They help each other. They use acupuncture and blades to remove pimples from the face.
They use Chio Osu and Osu for curing poor people's headaches.
---
Hakgala botanical garden
The Hakgala botanical garden is one of the three botanical gardens in Sri Lanka. It is the second largest garden in Sri Lanka. The garden is contiguous to Hakgala botanical nature reserve. Hakgala is a thick forest and Hakgala mountain is located above the Hakgala botanical garden.
From December to February the entire area including the Hakgala mountain and Hakgala garden are covered by the mist.
Several types of roses and many other beautiful flowers can be seen in the Hakgala park. Foreigners come to Sri Lanka to visit the Hakgala botanical garden. It is a very colourful and a beautiful park in Sri Lanka.
---
The cheetah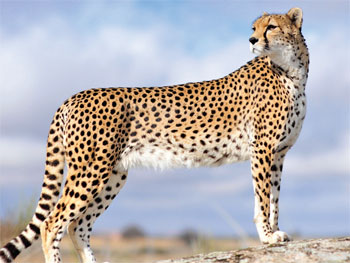 The cheetah is not a domestic animal. It lives in the jungle. It is an endangered animal. We can see it in the zoo. Its colours are brown, black and yellow.
Some of them have black dots all over the body, just like leopards. It is the fastest animal in the world.
The cheetah is my favourite animal.