Stories depicting our lifestyle
What I Saw What I heard
Author Rajithangani Unantenna Fernando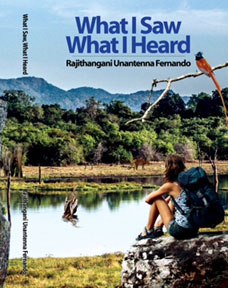 Written beautifully, this absorbing collection of travellers' tale and short stories is a must read. The author takes the reader to several sacred, historical and lesser known places, you may have visited before, but makes you want to visit again.
The legendary stories and mysterious happenings she had heard, and that which she shares with the reader, make this book really fascinating and exciting. She awakens a deep feeling of faith and respect towards these places of worship.
The stories constructed and woven around people she had met, seen and observed make this book exciting, hilarious and humorous.
'Going Home', 'Sami the Cobbler' and 'Kiruban the postman' bring to light the main social atmosphere we come across during our day-to-day life, and the ambience of the places she has been to. 'The bus ride' is a hilarious story which depicts the hasty life style in the city.
Simple people are living simple lives in a world of their own.
'This Land is mine', is a story, part real and part fictional, set in a small beautiful village in the outskirts of Kandy, where the author spent her childhood. The reader is transformed into a person living in the village by the author's writing ability. She tells of life in the village and portrays the lifestyles of the aristrocatic landlords as well as that of the poor rural folk and aspirations, simple way of life and traditions. Living lives with dignity honour and honesty.
Whilst telling us these stories the author attempts successfully to convey to the reader different aspects of lifestyles of our society and at the same time portrays the charm, grace and beauty of our land.