Iran ready to support Lanka at UNHRC sessions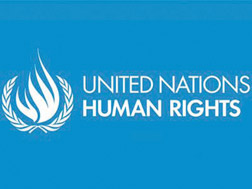 Iran is ready to extend its fullest support to Sri Lanka during the UNHRC sessions in Geneva, Special Representative of Iran's Spiritual head Ghazi Askar said.
He said that USA and its allies which launch merciless attacks on other countries are talking about human rights violations. They commit crimes and point their finger against others.
He told the media in Colombo, that the United States of America levels allegations on others while being the prime human rights violator in the world.
"They are taking away the national resources of other countries and create internal turbulence in some countries by stirring unrest among certain tribes or groups in those countries," Askar said.
Human rights violations should be raised against them first, the Special representative said.
"We rely on our own, we don't need assistance from the USA and its friendly nations. Other countries too should concentrate on their own traditions, people's rights and non-interference in other countries' internal matters.
"Iran has its own Shariah law and practises it. We will leave no room for anybody to invoke Western law. Our law is Shariah", Askar said.