We need to move forward and rebuild the North - Jaffna University VC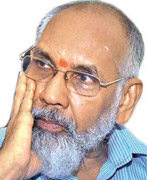 Chief Minister of the Northern Provincial Council (NPC) C.V. Wineswaran had to take a dose of his own medicine at the National conference on Post-terrorism Socio-Economic Development of the Northern and the Eastern Provinces organised by the University Grants Commission under the patronage of its Chairperson Prof. Kshanika Hiriburegama at Taj Samudra Hotel, Colombo on Thursday.
Vice Chancellors of the University of Jaffna and the Eastern University countered baseless allegations made by the NPC Chief Minister who was the chief guest at the conference. Wigneswaran said the powers vested with the NPC was inadequate, the Northern province has not been developed after the end of terrorism, inadequate living standards of the people and the presence of the Security Forces. Vice Chancellor, Jaffna University Prof Vasanthy Arasaratnam and the Vice Chancellor of the Eastern University Dr. K. Kobindarajah shot down wild allegations made by Chief Minister Wigneswaran with statistical and research data.
The findings of the two Vice Chancellors is a setback for Wingeswaran as the two eminent academics have been with the people in the North and the East and have first-hand experience on the situation whereas Wigneswaran, living in Colombo 7, is a political parachute.
Jaffna University Vice Chancellor, Prof. Arasaratnam spoke at length about her personal experience and said that when infrastructure development is taking place, they should move forward. We as academics will give our fullest collaboration in livelihood development of the Northern people," she said adding that she and the people in the North had suffered enough due to LTTE terrorism. We need to move forward, try to forget the past and rebuild the North, like I have rebuilt my home that was destroyed due to terrorism,she said.
Eastern University Vice Chancellor Dr. Kobindarajah suggested forming a committee of academics to work with President Mahinda Rajapaksa with the support of the Tamil National Alliance (TNA). All parties concerned should address the real cause and genuinely work hard.
I firmly believe that if you work with an open heart we could definitely sort out whatever the problems we have. We as the academics are ready to play a key role to promote ethnic harmony and reconciliation,he said.