Lanka's Empire Teas marks presence at Sochi Olympics
In a landmark accomplishment, which has brought fame and honour to Sri Lanka, leading tea exporter Empire Teas marked its presence at the Sochi 2014 Winter Olympics as a producer of the official tea caddy souvenirs for this year's games.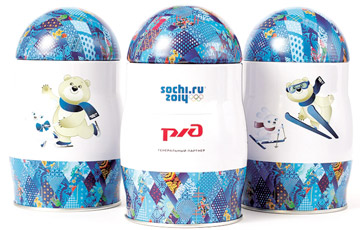 Empire Teas, a leading tea exporters to Russia over the past few years, was selected by JSC Russian Railways, a National Partner of the Sochi 2014 Winter Olympics, to produce the tea caddy souvenir for the 2014 Winter Olympics currently being held in the Russian coastal town Sochi.
The attractive metal caddies featuring this year's games mascots, The Polar Bear, The Leopard and The Hare, contains a special blend of Ceylon Orange Pekoe tea, which has been specially created for the Olympic souvenirs.
The XXII Olympics Winter Games, which is a major international multi-sport event, is being held in Sochi, Russia until 23rd February 2014 with the participation of over 2800 athletes from 88 countries.
JSC Russian Railways which selected Empire Teas to produce these gift tea caddies boasts of the second largest railway network in the world with 85,500 km of track. The Company carries over 1.1 billion passengers and 1.1 billion tons of freight annually across 11 time zones. JSC Russian Railways is Russia's fourth largest company in revenue terms and comprises of 987 enterprises along with 165 subsidiaries which employ over 1 million employees.
One of Sri Lanka's leading tea companies with an annual export volume of over 14 million kilograms, Empire Teas which commenced operations in 2000 is synonyms for its premium quality products and the consistently expanding clientele across the globe. Empire Teas enjoys a significant market position as one of Sri Lanka's leading tea exporters to Russia commanding a market share of over 15 percent in annual Ceylon tea exports.
Empire Teas markets its products under three primary brands, 'HYSON', 'Regalo' and 'MERVIN'.
'HYSON' is a leading brand present in over 40 countries worldwide with a wide range of products to comply with every taste, culture, mood and moment.
All products are certified with internationally recognized quality and process certifications including ISO 22000-2005, ISO 9001-2000, HACCP, USDA Organic Products, EU Organic Products, Fair-Trade, Halal and Kosher certification.