Ragging takes its toll:
Shattered dreams...
What happened to him? Only time will tell. The truth is too heavy to sink it will lie low for a while and then come out in the open.
Anyway innocent, hard-working Nishantha paid the supreme penalty and his lifeless body was found hanging on a branch of a tree close to the very University where he was selected and was wanting to pursue a Degree but his dreams were shattered when the Seniors of the university stooped to low down tactics when they ragged him.
He was not used to the type of ragging he was subject to since he came from a simple background where this type of inhuman behaviour was alien to him.
He tried to seek justice for the trauma that he underwent while he was being ragged and complained to the authorities.
He wanted justice to be meted and the perpetrators to be brought to book and the case ended up with the police where he was the prime witness. Read on to find out the story behind Nishantha's suicide...
University entrance is a dream for any youngster in Sri Lanka.
Only a handful of students are privileged to enter state Universities. What with the selection process getting tougher and tougher there is a stiff competition due to the limited number of vacancies.
Dikovita Kankanamge Nishantha popularly known by his last name was overjoyed to hear that he was among those who were selected to the Peradeniya campus. Although he had passed the Advanced Level examination with flying colours he waited expectantly not knowing whether he will be selected or not.
Thus Nishantha went to the University, a happy man with many dreams and expectations.. But unknown to him destiny had other plans.
Twenty-three-year-old Nishantha resided in Uyangoda Narangala. He was the second child among four siblings. Nishantha's father was a fish vendor and his mother was a housewife. His older sister D.K. Shiromi worked in a garment factory and his second sister D.K. Niroshani was also working in a garment factory on a part time basis.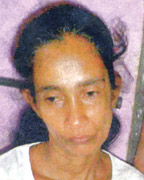 The grief-stricken mother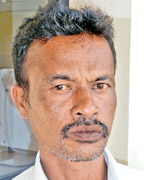 The aggrieved father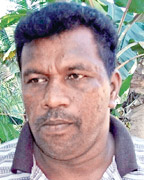 Nishantha's uncle Gamini with whom he was last employed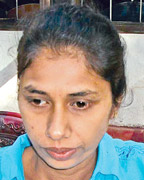 D.K. Nimali, the aunty who nurtured Nishantha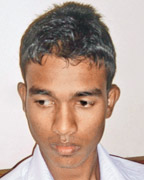 D.K. Sampath
She was a hard-working person and worked in the factory whenever she had free time. She was pursuing an Arts Degree at the Kelaniya University. D.K. Sampath, his youngest brother was studying in the Advance level class at Biyagama Maha Vidyalaya.
Nishantha's school life was beset with difficulties, but he had never gave up, He strived to ovecome his difficulties win his goals in life through education as he knew this was the only way he could lead a comfortable life.
Hailing from a family which faced financial difficulties, Nishantha from an early age thought his salvation from poverty lay in having a sound education.
He knew that his parents were not financially capable to fund the upbringing of all their children. He decided to settle down with his aunt in Angunukolapalassa at an early age.
D.K. Nimali, Nishantha's aunty took good care of him. She saw the talent the young lad possessed and gave all the encouragement he needed to further his education. Nishantha studied from grade five in Mahanaga School in Angunukolaplassa under the care of his aunt. She was always sensitive to his needs and provided everything she could for his welfare.
He was a bright student and popular among his friends and teachers. Many in school adored him. He had a good personality and was considered as a leader by his fellow students. He was appointed head prefect of the school and performed his duties diligently and to the satisfaction of both teachers and students. He was admired by the principal and teachers for his discipline and hard work. In 2010 he sat for the Advanced Level examination and passed the examination with good grades. In the district rankings he had secured the 73rd place from Hambanthota.
His aunty Nimali was overjoyed with Nishantha's success. His parents were overcome with emotion on hearing their son's success. After some time Nishantha got the news that he had secured a place to enter University.
On October 2011, he had Peradeniya University as an undergraduate with a lot of expectations for a bright future.
However there was another obstacle in his path – ragging, Before he entered University he was aware that there was ragging in the campus for new entrants. Nishantha who had never been out of home until then was not accustomed to this. Another reason was he was dead against ragging.
Nishantha never anticipated that he would leave the university prematurely. However, he could not tolerate the activities of senior students and often lost his temper when he was confronted with their crude behaviour.
When he entered the campus he expected it to be a friendly and enjoyable place. But he found that this was not the case for new entrants. The myth lasted only for a brief period and the harsh reality surfaced. The ragging he underwent was unbearable !
One day Nishantha and his friend had been subjected to severe ragging which reached the boundaries of sexual harassment. Subsequently, this was exposed to authorities and some senior students had to face the wrath of the authorities. Charges were filed against them with law enforcement authorities with the case eventually ending in courts.
After this incident Nishantha lost all interest in studies. He was under a lot of pressure and this had an impact on him. After the incident he was often targetted by seniors and subject to ridicule. Finally he decided to bid farewell to Peradeniya University albeit prematurely ending his studies. Since the departure from Peradeniya university, Nishantha stayed with his uncle in Biyagama and worked as a lorry cleaner. He was quite content with his work and had tried to forget the horrifying experience he had in Peradeniya
However, about a month ago Nishantha went missing from his work place. He had met one of his friends for a cup of tea and that was the last they heard of him.
Subsequently, the lifeless body of Nishantha was found hanging from a tree in the thicket within the Peradeniya campus premises. His body was hanging in a tree behind the Markus Fernando Hall.
Incidentally Nishantha was a key witness in the ongoing ragging case and the next hearing was supposed to be held on the 23rd of this month. What led to Nishantha's death is a mystery. Was it suicide or foul play?
"My son was severely ragged. There is even a case pending against some senior students in which my son is the main witness. Hence I am suspicious over his death" said D M Kusumawathi, mother of the deceased.
Ironically his girlfriend is an undergraduate at Peradeniya University. She too had tried to find out what had happened to Nishantha but failed to contact him. Then she received the sad news about his death.
According to her she had seen no evidence of any mental distress to commit suicide.
Was it suicide or homicide that ended the life of this bright youngster? If it is murder who is responsible for this gruesome act? Is it a stupid irrational decision of an individual or is it society at large that is responsible for the loss of this human being, only time will tell.
Nishantha's fiance's statement
She made a statement to the Peradeniya police. 'Nishantha and I entered University at the same time. We began a friendship and then we became lovers. He did not tell me about the ragging incident at the inception. After about two months he told me that his grandmother was not keeping too well and that he was going to see her.
Then he phoned me and told me that he would not return to the campus because he was disappointed with the set up and that he was not well.
Although he left the campus we continued with our association. He left campus and became a cleaner in his uncle's lorry. I told him many times that we could talk it over with the authorities and request for a transfer to another campus. He said" I only like the Peradeniya campus. I am not in favour of any other campus. He came to see me on about six occasions after he left the campus.
He came to Kandy and met me. Nishantha was afraid to come to the campus. On January 26 I had gone home for the holidays. When I phoned him he said that he was at the Fort bus stand and had left his uncle's home and had no place to go but that there was a bus to Anuradhapura.
I told him to come to Anuradhapura. I kept phoning him from time to time. At about 4.30 pm. he told me he was in Anuradhapura."I have no place to go" was his continuous refrain and that he did not know anybody. I had already told my mother about our association so I told him not to worry and to come home. He came home had dinner and left the next day at six in the morning saying he was visiting a friend known as Samare. Anyway when I next called him he was in Kandy. I asked why he had gone to Kandy and asked him to take a Colombo bound bus and go home.
At about 12.30 when I called him he said he was at the Peradeniya University. I told him not to go there because I was also not there. Then he told me that the place was not like it was when I was there and now the surroundings too had changed. "There are no flowers even. You better study well because you have a good future" was what he told me at that time. At about 2.30 he said he was near Markus hall. I told him to get back home post haste without walking about. After that there was no contact.
The phone went dead. I phoned his sister and uncle and informed them. From that day onwards I had no information about him.
On February 10 his sister informed me that a body was found hanging on a tree in a shrub jungle close to the Peradeniya campus. She then told me that the body was that of Nishantha. A friend also confirmed that it was him.