Regulations for a professional transport industry :
Tight laws for bus drivers from 2015
Sri Lanka is a country where majority of its population depends on the public transportation services. Except for five million registered vehicles in the country, over 10 million people rely on several hundred trains and around 100,000 buses both belonging to the Ceylon Transport Board and the private bus owners. Therefore the importance of the service rendered by these public transportation modes is not little. But it is questionable whether a sophisticated and a satisfiable service is provided to the public for the price they pay for their trip.
Many would agree that the bus service in the country especially the private sector is appalling.
Disrespectful
The general conduct of the bus operators towards the commuters is disrespectful and the driving behavioural patterns of the drivers disgusting. Drivers of these infamous heavy vehicles have invaded roads like unleashed cattle causing panic to the law abiding drivers as well as disturbing the regular flow of motor traffic. The number of accidents being reported everyday over the negligence and ignorance of these drivers is not decreasing. And there is not much the law enforcement authorities could do by acting according to the prevailing laws against these errant drivers. Inculcating good driving manners among them is a different story.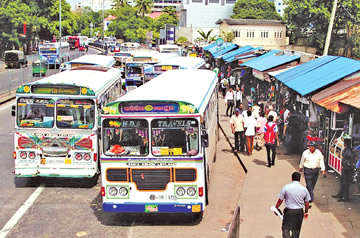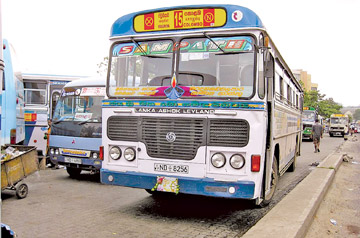 To address this plight the Minister of Transport introduced a new set of guidelines which is compulsory when issuing license to public transport drivers in the future. A Cabinet Paper submitted to amend the criteria of issuing the bus drivers license was approved in February and these new guidelines will be put into practice by January 1, 2015. The Ministry of Transport through the amendment had given specific instructions to the Department of Motor Traffic (DMT) on how to act in issuing a drivers license to a public transport vehicles and what factors should be considered in doing so.
According to the new law, all passenger transporting vehicles including CTB and private buses, motor coaches as well as school vans will be subjected to this check in the future.
Separate
Although there will be no separate class of license for these drivers, the same license would be endorsed by the Commissioner General of Motor Traffic for those who have complied with the new regulations. Explaining about these new criterion, the Commissioner General of Motor Traffic Department S H Harishchandra said the chief motive behind setting up these guidelines was due to the increasing number of road accidents committed by errant drivers of which a significant number were fatalities.
The lack of road discipline and ignorance towards the traffic laws in a highly competitive world would create a mere bunch of individuals who would only know how to drive a vehicle but no professionalism can be expected from them. Apart from the accidents various anti-social activities do take place inside these passenger transport vehicles involving unprofessional drivers and their assistants or ticket conductors.
Harassment
Many stories heard from the free trade zones countrywide where female factory employees are being subjected to various harassment and abuse inside these vehicles especially at night was another reason for these criterion to be introduced.
There are heavy penalties for drunk driving in Sri Lanka but the tendency to consume narcotics whilst on duty is a serious offence that go unnoticed by many law enforcement authorities on many occasions. According to reports, about 50 percent of the passenger transporting drivers drive under the influence of various narcotics.
Regulations
These regulations have been made by Minister of Transport under the Section 237 of the Motor Traffic Act (Chapter 203) read with Section 128A of the aforesaid Act was publicised through an Extraordinary Gazette dated February 06, 2014. According to this, no holder of a license for any class or classes of vehicles shall drive a motor coach as a public service vehicle for carriage of passengers unless he is authorised by a special endorsement from the Commissioner General under the Section 128A.
"Any holder of a license for any class or classes of vehicles who intends to drive any public service vehicle for carriage of passengers shall make an application to the Commissioner General in the form as set out in the schedule to these regulations together with the payment of Rs.2,000 as a levy for the issue of special endorsement by the Commissioner General.
"The following requirements and the qualifications shall be fulfilled by an applicant to obtain a special endorsement to drive a motor coach as a public service vehicle and the applicant shall prove to the satisfaction of the Commissioner General that he is a person of age between 23 and 65 years ( both inclusive); has obtained two years driving experience after obtained a regular driving license for a motor coach; has obtained a medical certificate issued by the National Transport Medical Institute or any other institution authorised in writing by the Commissioner General; has completed a first aid course conducted by the National Transport Medical Institute or any other institution authorised in writing by the Commissioner General to conduct such course; has passed the medical knowledge examination conducted by the Commissioner General or any other institution authorised by him in that behalf; has successfully completed a training course conducted by an institution authorised in writing by the Commissioner General to conduct such training course and has no criminal record under any law in force in Sri Lanka".
Elaborating on these regulations Commissioner General Harishchandra said the prime intention of the department is to create a professional public service driver in the future. He said presently the attitude of these drivers and especially the ticket conductors towards the commuters is highly dissatisfying.
How they address a commuter is not acceptable and no respect is shown to the passengers. If there is a feeble passenger or a clergy waiting at the bus halt some drivers do not even stop the bus thinking it would be a hassle. Most drivers do not even care to stop and let the passengers disembark as they are reluctant to stop whilst racing with other buses. Also excessive honking of the horn in an impatient manner would not only irritate others but also cause damages to ones health as well.
The DMT believes that a future driver should be able to attend to his vehicle during a breakdown instead of waiting for secondary assistance. And the knowledge in first aid would help them tend to any injured passenger after an accident whilst waiting for the paramedics. And the special training on behavioural conduct would help them render an ethical and better service to the commuters with a professional approach.
Also the passenger transporting drivers will be given a special training on how to adhere to different situations like day-to-day general commuter transporting, transporting passengers on a private entertaining excursion, etc. Understanding each driver's psychological condition is important in this regard which will be conducted in the specialised training sessions.