Make university life the best experience - VC Peradeniya University
Health and transport sectors are two key areas where there are frequent trade union actions. Another area notorious for unrest is universities.
A common factor the strikers forget is the government inputs that have gone in to these sectors by way of welfare, additional wages and other infrastructure facilities which run in to billions of rupees annually.
Even the university student of Peradeniya may not know that government on average allocates around Rs. 3 million annually to maintain this institution. In addition deserving students get Mahapola scholarships and global lecturer exchange programs to study under foreign professors.
Considered as one of the world's largest universities the Vice Chancellor of the University Prof. Athula Senaratne said that this year the government would allocate nearly Rs. 2 billion to increase hostel facilities and also build lecture halls.
Last year over Rs. 20 million was spent to upgrade the Engineering Faculty where new equipment was provided. In addition a Rs. 50 million grant was provided to the veterinary section to intensify research.
He said similarly other faculties have received over Rs. 150 million in recent times to upgrade to meet the international standards
History
The Peradeniya University was established as the University of Ceylon in 1942.
The University of Peradeniya hosts eight faculties (including the newly added Allied Health Science faculty), two postgraduate institutes, 10 centres, 73 departments, and about 11,000 students in the fields of medicine, agriculture, arts, science, engineering, dental sciences, veterinary medicine and animal science and allied health science. It claims to the largest government endowment by a higher educational institution in Sri Lanka, based on its large staff and faculties, departments.
In 2013 the University of Peradeniya was ranked No: 1 in Sri Lanka in research by ResearchGate. In 2010, according to University Ranking by Academic Performance (URAP),University of Peradeniya ranked 1426th in the world. It is the only Sri Lankan university ranked under URAP.
The university has developed international relationships since its early days. Student exchange programs, collaborative research, split postgraduate programs, international seminars, conferences and short courses are being carried out with these global partners via the
Directorate of Research and International Affairs of the university.
This was established as a separate institution in 2006.
/University /has initiated cooperation programs with foreign governments and institutions.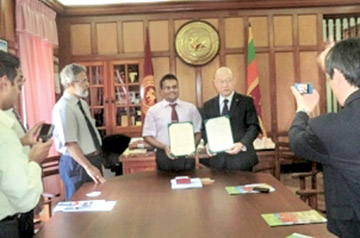 An MoU was inked between University of Peradeniya and Yamagata University, Japan. Here Prof. Athula Senaratne, Vice Chancellor, the Dean, Faculty of Agriculture, Prof. H. Yasuda, Vice President of Yamagatha University, Dr. M.I.M. Mowjood and Heads of Departments after singing the MoU last year.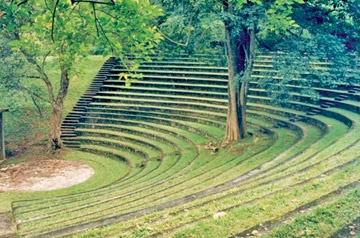 The Sarachchandra open air theatre
Sports activities in the university are conducted by the Department of Physical Education. University of Peradeniya has 30 athletics teams up-to date. Sports facilities include a well equipped gymnasium; which
is one of the largest multi-purpose outstation stadiums in Sri Lanka, a 50m swimming pool and separate stadiums for cricket ,rugby ,football, football, ,hockey .tennis ,track and field and elle. The DNA sequencer to the University of Peradeniya was commissioned recently and it will be used to provide sequencing services to researchers.
Commenting on the much talked about leadership training program for students he said that this is something that should have being introduced over 10 years ago.
Another controversial area in the university life is the ragging and he said that this now turning out to be something in the past. "The counter masseurs taken have provided very effective."
He said even some of the extremist political parties that try to use undergraduates to meet their political ends are reducing as the students know their ulterior motives.
He however said that the strikes and unrest in the universities in the past has had a major negative impact for the higher education sector as today the university entry level average age has dropped to around 22.
"When I entered the University this was around 18 years."
"The extremist political parties have take responsibility for this for instigating violence at Universities which resulted in lowering of the enarty age from an average 19 to 25 years."
Currently the student strength of the University is around 11, 000 and there are eight faculties. "We also provide hostel facilities for over 6,000." With the new hostel facility to be completed end of the year the hostel facilities would be further increased.
He said that with regard to salaries they too have being increased by over 35%. "One must also take in to account the duty free permits, one year paid leave once in seven years and other benefits that are provided for the academic staff," he said.
Every seven years the staff get one year fully paid leave and they have the opportunity to go overseas and lecture during this period and when
this option is taken the air tickets of the spouse too is being found for them. In other words it's a fully paid holiday for any destination in the world.
Commenting on their CES initiatives he said that the University is the authority on analyzing alien objects, agriculture and health research, soil testing, identifying petroleum deposits and natural recourses. One must also praise our research which has helped both the government and the private sector."
In addition students also go to the villages and carry out series of CRS educational work which have helped communities transform their lives.
"My approach is student centered, by this I mean that all my efforts at the end should benefit our students. Here I totally agree with Sir Ivor Jennings the founder of this great University who lucidly declared that "The fundamental task is to produce educated men and women in the fullest sense of that phrase, men and women who are capable of fulfilling any function in the world that may fall to their lot, citizens of high intelligence, complete moral integrity, and possessing energy, initiative, judgment, tact and qualities of leadership" he said.
"I appeal to my student to give priority to their studies and to make the University life the best experience in their life taking advantage of all the facilities available. I appeal to the parents of our students to be vigilant of their sons and daughters and to encourage and support them to reach their potential.
While acknowledging that University of Peradeniya may already have the best teachers of all the Universities in the nation, I appeal to my academic staff to continue the great heritage of the intellectual giants of the yester year. I appeal to the supporting staff to be the most efficient and supportive officers and workers to realize our goal. While widely opening the door to our past lumni, I sincerely appeal to you to pay tribute to your alma-mater so hat together we can take her to new heights."