Climate change will have adverse impact on Sri Lanka
Sri Lanka's climate variability has increased. The night temperature in Nuwara-Eliya has gone up and weather changes in Nuwara Eliya will not be suitable for potato cultivation and even other types of cultivations. The Deputy Director of the Centre for Climate Change Studies, Meteorological Department (CCCSMD) Ms. Anusha Warnasooriya gave a death knell warning that cultivation in these areas are doomed. This will create social issues, as farmers have to find alternative means of living.
The Intergovernmental Panel on Climate Change (IPCC) has issued a report saying that the effects of climate change are already occurring in all continents and across the oceans. The report says that the world, is not prepared for risks from a changing climate and the risks will be difficult to manage with high levels of global warming. Island states such as Sri Lanka are vulnerable to climate change as those are surrounded by sea. The sea level is predicted to rise due to global warming. Sri Lanka experienced unusual heavy rains and longer period of droughts last year. This type of weather patterns are expected to continue in the future.
Ms. Anusha Warnasooriya said that there was a difference between climate and weather although people believed it to be the same. Climate is the long time weather that has been prevailing in an area and at least ten years of change of weather has to be observed to decide whether the climate has changed. Ideally it should be at least 30 years, she said. The climate is a complex issue which depends on factors such as sea, ice, atmosphere and life which includes humans, animals, trees and buildings.
She said that according to IPCC definition, climate change is the "variability or average state of the atmosphere over time scales ranging from decades to millions of years". The temperature of the land and sea has increased but the heat capacity of the sea is more. This makes the sea to expand and water level to rise. The heat is felt more in the Northern hemisphere as there are more lands in the region. The temperature has increased by 0.6 degrees Centigrade from 1901 to 2005. But it has increased by 0.74 degrees Centigrade from 1906 to 2005, indicating a rise in temperature during the recent 100 years.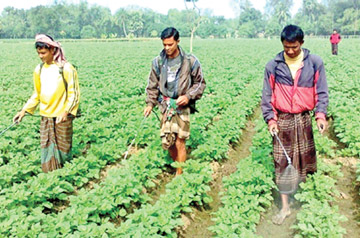 Potato cultivation in Nuwara Eliya, which is at its peak will decline with climate change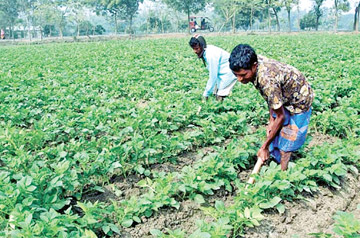 Farmers cultivates potatoes
Climate change is not only the increase of temperature but decrease of it as well, she said. The global temperature has decreased in 1940's where it is attributed to the reduction of industrial activities due to world wars. Again in 2010 some countries have experienced decline in temperature while others have seen an increase. Some countries have experienced more rainfall and others less during the period between 1961 and 1990. She said that more rainfall is expected in Asia in the future.
The rate of sea level rising has increased. It has increased by 1.7mm per year from 1870 to 2010 and 3.28mm per year from 1993 to 2011. This could cause problems to island states such as Sri Lanka as coastal areas could be submerged.Ms. Warnasooriya said that the intensity of cyclones, hurricanes, typhoons and their effects have become intensified. Extreme weather conditions have been reported more during 2001 and 2010, she said. The highest temperature has been recorded in 2010.
Although the climate change occurs due to natural phenomena such as the change in the path taken by earth to move around the sun from an oval shape to cycle, change of the side of the angle of earth when orbiting around sun, a change in earth's 23.5 degrees, a continental drift, scientists say this could not happen as it takes thousands and thousands of years. Therefore human activities have contributed to the climate change, scientists say.
Ms. Warnasooriya said that human activities have altered the composition of the atmosphere. They have released Carbon-Dioxide to the atmosphere by burning fossil fuels. Humans have felled trees so that Carbon-dioxide cannot be absorbed. Emission of green house gasses has depleted the Ozone layer. Housing and building constructions, cutting and replacing of trees have changed the landscape and sun rays directly heat up the earth. The temperature on Mars is -50 degrees Centigrade as it does not have green house gasses but the temperature on Venus is +470 due to green house gasses there.
"The number of deaths can be increased due to heat waves, people can get heat strokes, insects, parasites and mosquitoes can be increased, there can be more rains at the same time there can be more dry areas, there will be more wild fires and intensity of lightening will be increased", if the temperature rises, she said. Sea level has risen due to thermal expansion and melting of ice in the poles. The sea level is estimated rise by 88cm for 100 years.
Although cyclones are known for their devastating effects, those are needed to keep the energy balance in the world, she said. Cyclones help to cool the atmosphere by taking winds across the seas and lands. Sea currents do a similar task by carrying warm water from equator to poles.
The Intergovernmental Panel on Climate Change is the international body for assessing the science related to climate change. It was set up in 1988 by the World Meteorological Organization and the United Nations Environment Program to provide policy makers with regular assessments of the scientific basis of climate change, its impacts and future risks, and options for adaptation and mitigation. Sri Lanka is a member of this international body.
The report, titled Climate Change 2014: Impacts, Adaptation, and Vulnerability, from Working Group II of the IPCC, details the impacts of climate change to date, the future risks from a changing climate, and the opportunities for effective action to reduce risks. Three hundred and nine authors and review editors, drawn from 70 countries, were selected to produce the report. They enlisted the help of 436 contributing authors, and 1,729 experts.
The report has said that responding to climate change involves making choices about risks in a changing world. The nature of the risks of climate change is clear, though climate change will continue to produce surprises. The report identifies vulnerable people, industries, and ecosystems around the world. It finds that risk from a changing climate comes from vulnerability and exposure overlapping with hazards.
"We live in an era of man-made climate change," said Vicente Barros, Co-Chair of Working Group II. "In many cases, we are not prepared for the climate related risks that we already face. Investments in better preparation can pay dividends both for the present and for the future."
Adaptation to reduce the risks from a changing climate is now starting to occur, but with a stronger focus on reacting to past events than on preparing for a changing future, according to Chris Field, Co-Chair of Working Group II.
"Climate change adaptation is not an exotic agenda that has never been tried. Governments, firms, and communities around the world are building experience with adaptation," Field said. "This experience forms a starting point for more ambitious adaptations that will be important as climate and society continue to change", he said.
Future risks from a changing climate depend strongly on the amount of future climate change. Increasing magnitudes of warming increase the likelihood of severe and pervasive impacts that may be surprising or irreversible.
"With high levels of warming that result from continued growth in greenhouse gas emissions, risks will be challenging to manage, and even serious, sustained investments in adaptation will face limits," said Field.
Climate change has already affected agriculture, human health, ecosystems on land and in the oceans, water supplies, and some people's livelihoods. The striking feature is that they are occurring from the tropics to the poles, from small islands to large continents, and from the wealthiest countries to the poorest.
"The report says that people, societies, and ecosystems are vulnerable around the world, but with different degree of vulnerability in different places. Climate change often interacts with other factors to increase risk," Field said.
Field added: "Understanding climate change and managing risk, opens a wide range of opportunities for integrating adaptation with economic and social development. We definitely face challenges, but understanding those challenges and tackling them creatively can make climate change adaptation an important way to help build a more vibrant world in the near term and beyond."
Chair of the IPCC Rajendra Pachauri, said: "The Working Group II report is another important step forward in understanding how to reduce and manage the risks of climate change. Along with the reports from Working Group I and Working Group III, it provides a conceptual map of not only the essential features of the climate challenge but the options for solutions."
The Working Group I report was released in September 2013, and the Working Group III report will be released in April 2014. The IPCC Fifth Assessment Report cycle concludes with the publication of its Report in October 2014.
"None of this would be possible without the dedication of the Co-Chairs of Working Group II and the hundreds of scientists and experts who volunteered their time to produce this report, as well as the more than 1,700 expert reviewers worldwide who contributed their invaluable oversight," Pachauri said. "The IPCC's reports are some of the most ambitious scientific undertakings in human history, and I am humbled by and grateful for the contributions of everyone who made them possible."
Working Group II, which assesses impacts, adaptation, and vulnerability, is co-chaired by Vicente Barros of the University of Buenos Aires, Argentina, and Chris Field of the Carnegie Institution for Science, USA.
The Technical Support Unit of Working Group II is hosted by the Carnegie Institution for Science and funded by the government of the United States of America
Much of the extreme weather that wreaked havoc in Asia, Europe and the Pacific region last year can be blamed on human-induced climate change, according to the World Meteorological Organization.
The U.N. weather agency's annual assessment said 2013 was the sixth warmest year on record. Thirteen of the 14 warmest years have occurred in the 21st century.
Rising sea levels has led to increasing damage from storm surges and coastal flooding, as demonstrated by Typhoon Haiyan, the agency's Secretary General Michel Jarraud said. The typhoon in November killed 6,100 people and caused $13 billion in damage to the Philippines and Vietnam. Australia, had its hottest year on record. "Many of the extreme events of 2013 were consistent with what we would expect as a result of human-induced climate change," Jarraud said.
He cited other costly weather disasters such as $22 billion damage from central European flooding in June, $10 billion in damage from Typhoon Fitow in China and Japan, and a $10 billion drought in much of China.
Only a few places, including the central United States, were cooler than normal last year, but 2013 had no El Nino, the warming of the central Pacific that happens once every few years and changes rain and temperature patterns around the world. Jarraud spoke as top climate scientists and representatives from about 100 governments with the U.N.'s Intergovernmental Panel on Climate Change met in Japan to complete their latest report on climate change's impact on hunger, disease, drought, flooding, refugees and war. The risks and overall effects of climate change are far more immediate and local than scientists once thought.
It's not just about melting ice, threatened animals and plants. It's about the human problems of hunger, disease, drought, flooding, refugees and war, becoming worse.
Severe floods, such as the one that displaced 90,000 people in Mozambique in 2008, are now more common in Africa and Australia. Europe and North America are getting more intense downpours that can be damaging. Melting ice in the Arctic is not only affecting the polar bears, but already changing the culture and livelihoods of indigenous people in northern Canada.
Past panel reports have been largely ignored because effects of climate change seemed too distant in time and location and that mentality has to be changed, says Pennsylvania State University scientist Michael Mann.
"Climate change really is a challenge in managing risks," says the report's chief author, Chris Field of the Carnegie Institution of Science in California. "It's very clear that we are not prepared for the kind of events we're seeing."
The panel predicts that warming temperatures will cause existing international tensions to rise, the first time it is emphasising the link between warming temperatures and violence as well as increases in food prices, decreases in the availability of water, increases in health problems and decreases in economic growth and poverty reduction.